Grizzly | Model: G4002
12" x 24" Gear-Head, Cam Lock Spindle, Gap Bed Lathe
Grizzly G4002 - 12" x 24" Gear-Head, Cam Lock Spindle, Gap Bed Lathe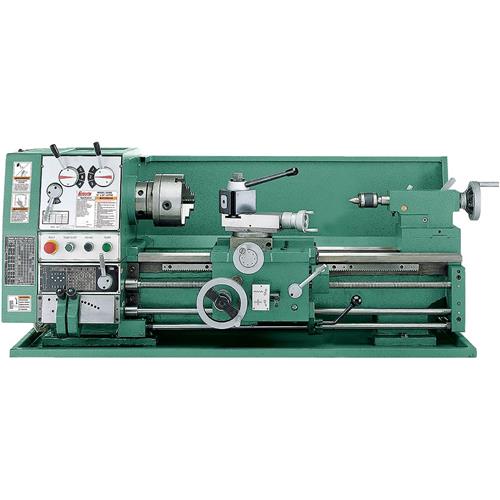 click to zoom
See this item in our 2015 Annual Catalog!
575
This metal lathe is an incredible value. Produced with precision slides and ways, the G4002 will keep up with the most demanding machining job!
Features:
Removable gap bed allows turnings up to 17" in diameter
Nine spindle speeds - ranging from 70 to 1400 RPM
Easy-to-use lever controls
Hardened and ground cast iron bed
Cuts 4-112 Standard TPI and 0.2-4.5 Metric
Full length splash guard
On/off/reverse switch on carriage
Standard Equipment:
6" 3-jaw chuck with two sets of jaws
8" 4-jaw chuck with reversible jaws
Steady rest
Follow rest
10" faceplate
Toolbox
Quick change tool post with one tool holder
1 Dead center: MT#3
1 Live Center: MT#3
Set of six change gears
1/2" chuck w/ MT#3 arbor
Specifications:
Swing over bed: 12"
Swing over gap: 17"
Swing over cross slide: 7"
Distance between centers: 24"
Bed width: 7-1/4"
Spindle bore: 1-7/16"
Taper of spindle bore: MT#5
Spindle: Camlock D1-4
Cross slide travel: 6-1/4"
Compound travel: 3-1/4"
Tailstock barrel taper: MT#3
Tailstock barrel travel: 4"
Diameter of tailstock barrel: 1-9/16"
Number of speeds: 9
Range of speeds: 70, 200, 220, 270, 360, 600, 800, 1000, 1400 RPM
Motor: 2 HP, single-phase, 220 Volt, 8.5 amps, 60 Hz, 1725 RPM
Height w/o stand: 23"
Height w/ stand: 52"
Length w/ stand: 53"
Width of stand: 26"
Approx. shipping weight: 1004 lbs.
Compare with similar items: