Grizzly | Model: G4002
12" x 24" Gear-Head, Cam Lock Spindle, Gap Bed Lathe
Grizzly G4002 - 12" x 24" Gear-Head, Cam Lock Spindle, Gap Bed Lathe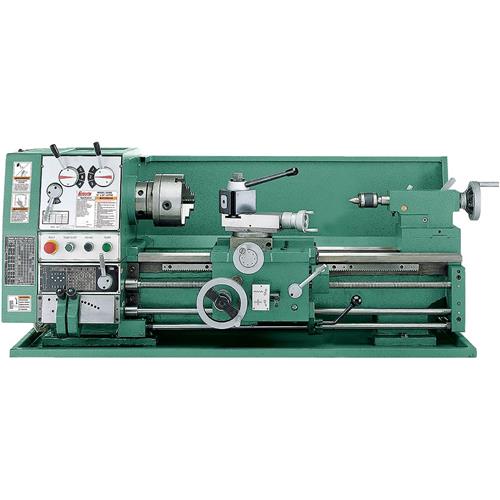 click to zoom
See this item in our 2016 Main Catalog!
554
Showroom Availability
| | |
| --- | --- |
| Missouri | Temporarily Out of Stock |
| Washington | Temporarily Out of Stock |
This metal lathe is an incredible value. Produced with precision slides and ways, the G4002 will keep up with the most demanding machining job!
Features:
Removable gap bed allows turnings up to 17" in diameter
Nine spindle speeds - ranging from 70 to 1400 RPM
Easy-to-use lever controls
Hardened and ground cast iron bed
Cuts 4-112 Standard TPI and 0.2-4.5 Metric
Full length splash guard
On/off/reverse switch on carriage
Standard Equipment:
6" 3-Jaw chuck w/2 sets of jaws
8" 4-Jaw chuck w/reversible jaws
10" Faceplate
Steady rest
Follow rest
Quick-change tool post w/holder
4-Piece insert tool holder set
Set of seven change gears
Dead center MT#3 HSS tip
Dead center MT#3 carbide tip
Live center MT#3
1/2" Drill chuck w/MT#3 arbor
Spindle sleeve MT#5/MT#3
Oil can
Toolbox
Specifications:
Swing over bed: 12"
Swing over gap: 17"
Swing over cross slide: 7"
Distance between centers: 24"
Bed width: 7-1/4"
Spindle bore: 1.417" (36mm)
Taper of spindle bore: MT#5
Spindle: Camlock D1-4
Cross slide travel: 6-1/4"
Compound travel: 3-1/4"
Tailstock barrel taper: MT#3
Tailstock barrel travel: 4"
Diameter of tailstock barrel: 1-9/16"
Number of speeds: 9
Range of speeds: 70, 200, 220, 270, 360, 600, 800, 1000, 1400 RPM
Motor: 2 HP, single-phase, 220 Volt, 8.5 amps, 60 Hz, 1725 RPM
Height w/o stand: 23"
Height w/ stand: 52"
Length w/ stand: 53"
Width of stand: 26"
Approx. shipping weight: 1004 lbs.
Customers who purchased this item also purchased

:
Great machine for the money
4/22/2016
---
For the price, this is a GREAT deal. Worked perfect right out of the box. Did threading on it first day and it will do all my projects just fine. The spindle speeds could be a little more in line though, would like one between 70 and 200. But it's still a great machine. Great customer support.