Grizzly | Model: G0746
20" x 60" Lathe
Grizzly G0746 - 20" x 60" Lathe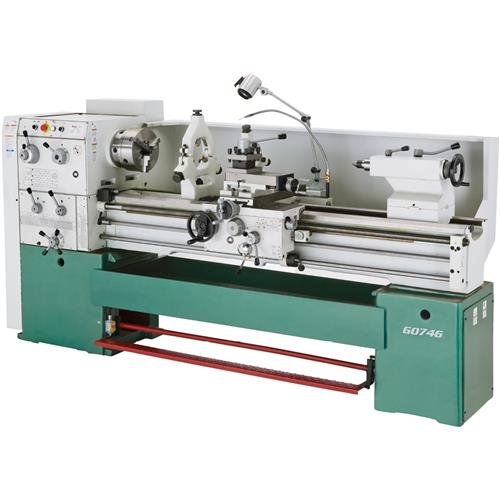 click to zoom
See this item in our 2017 Main Catalog!
553
| | |
| --- | --- |
| | Buy Now! |
| Price: | |
| Freight: | |
| Oversize: | |
| Total: | |
Built like a modern version of a classic American lathe, this 20" x 60" Gear-head Lathe has ridiculously thick castings and super heavy-duty construction throughout (just like those legendary machines of yesteryear), making this one of the most rigid and solid metal lathes we sell. With its 24 RPM low spindle speed, it is also one of the slowest lathes we sell, too! But that's not all—equipped with a 10 HP, 220V, 3-phase spindle motor and unbelievably massive tailstock, steady rest, and follow rest—this lathe is a reliable workhorse even in demanding machine shops that turn big and heavy workpieces. A universal gearbox allows cutting of inch and metric threads, as well as modular and diametral pitches. The spindle has a 3.15" bore, D1-8 nose, and MT #7 taper. The tailstock barrel has 4-3/4" of travel and an MT #5 taper. Other features and accessories include a complete coolant system, foot brake, worklight, 3-jaw scroll chuck, 4-jaw independent chuck, 4-way turret tool post, micrometer stop, and slide-out chip tray for easy cleaning.
Specifications:
Swing over bed: 20"
Swing over gap: 25"
Swing over saddle: 13"
Distance between centers: 60"
Spindle nose: D1-8 camlock
Spindle nose taper: MT #7
Spindle bore: 3.15"
Tailstock barrel taper: MT #5
Tailstock barrel travel: 4-3/4"
Cross slide travel: 13"
Compound travel: 5"
Motor: 10 HP, 220V, 3-phase
Number of speeds: 15
Speed range: 24–1600 RPM
Range of threads (inches): 66 @ 1–56 TPI
Range of threads (metric): 66 @ 0.5–28mm
Diametral pitch range: 33 @ 8–56 DP
Modular pitch range: 33 @ 0.5–3.5 MP
Width of bed: 13"
Approximate shipping weight: 4660 lbs.
Features:
Full-length splash guard
Apron-mounted ON/OFF/reverse spindle lever
Chip tray slides out for easy cleaning
Cast iron stand
Foot brake
Coolant system
Halogen light
Headstock gears run in an oil bath
Jog button and emergency stop
4-way turret tool post
Micrometer stop
Universal gearbox allows cutting of inch, metric threads and modular and diametral pitches
Standard Equipment:
Steady rest
Follow rest
2 MT #5 dead centers
Center sleeve MT#7 x MT#5
10" 3-Jaw chuck with 2 sets of jaws
12" 4-Jaw chuck with reversible jaws
Two change gears
8 leveling pads
Toolbox
Service tools
Manual
Customers who purchased this item also purchased

: