Grizzly | Model: G0672
5 HP Industrial Dust Collector
Grizzly G0672 - 5 HP Industrial Dust Collector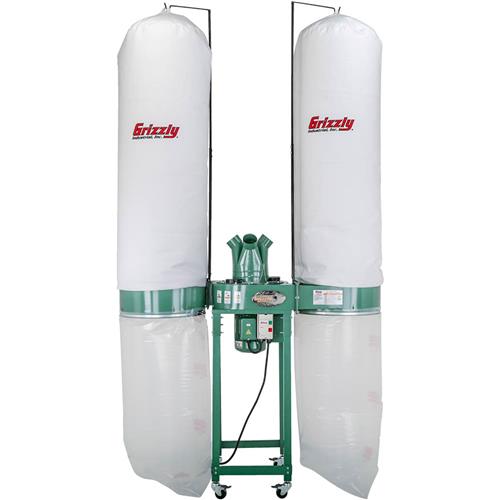 click to zoom
From its gutsy 5 HP motor to its huge 15" impeller, this powerhouse will tackle any dust collection task you throw at it—day in and day out. With four connection ports, this Industrial Dust Collector can easily handle four simultaneously running woodworking machines in a large-sized shop.
Specifications:
Motor: 5 HP, 220V, single-phase
Air suction capacity: 3961 CFM
Static pressure: 14.6"
Intake port with manifold: 4" x 4 Holes
Intake port without manifold: 10"
Impeller size: 15" balanced steel, radial fin
Collection bag capacity: 24 cubic feet
Bottom bag material: plastic
Upper bag filtration: 2.5 micron
Machine collection capacity: maximum 4 machines
Detachable base
Overall dimensions: 74" W x 29" D x 134" H
Approximate shipping weight: 326 lbs.

Optional Bag Replacement: G0672 Upper Bag; G6512 Lower Bag
Be the first to write a review . . .