Grizzly | Model: G1495
Heavy-Duty Wood Lathe
Reg: $995.00
Price: $950.00
Grizzly G1495 - Heavy-Duty Wood Lathe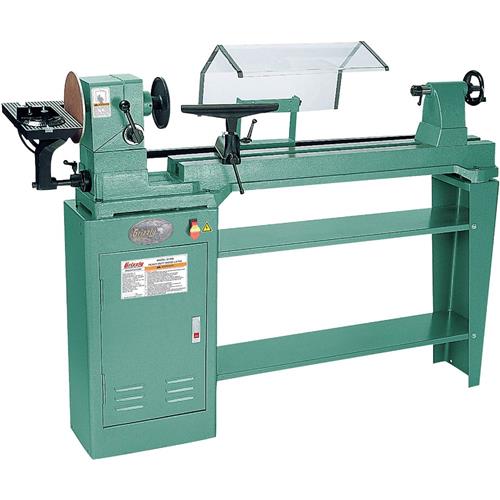 click to zoom
A high-quality, heavy-duty cast iron bed wood lathe that we were almost "ordered" by our customers to bring in! This is one of the best package deals we offer. We ask you to compare all the features and accessories to others on the market. We are confident enough to say this is the best value out there. Call and ask for a reference from existing customers.
An instant hit when introduced in early 1988, this lathe has proven to be an excellent performer!
Features
Motor: 3/4 HP, 110V/220V, single-phase
Swing over bed: 14"
Swing over gap: 17"
Swing over tool rest: 10"
Distance between centers: 40"
Spindle size: 1" x 12 TPI RH
Spindle taper: MT #2
Tailstock taper: MT #2
Indexed spindle—Every 30°
7 speeds: 500–3070 RPM
Center-to-floor height: 41-1/2"
Outboard spindle size: 7/8" x 16 TPI LH
Approximate shipping weight: 276 lbs.

Package Deal Includes:
Cabinet Stand & Shelves
8" Sanding Disc
6" Faceplate
Live Center/Spur Center
Flap Sander
Pneumatic 4" x 6" Drum Sander
Two Tool Rest Mounts
Aluminum Sanding Table
Miter Gauge
Compare with similar items:
Be the first to write a review . . .