South Bend | SKU: SB1025F
Mill 9" x 42" with DRO
Reg: $13,065.00
Price: $11,995.00
South Bend - Mill 9" x 42" with DRO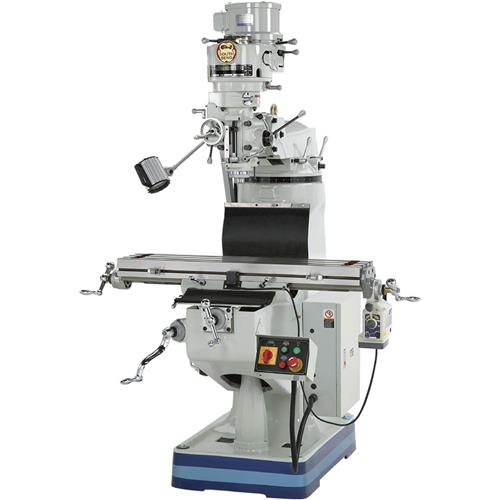 click to zoom
See this item in our 2016 Main Catalog!
629
All the precision you could ever need has been masterfully executed in these new South Bend® milling machines. Choose from the 8 speed single phase or the 16 speed 3-phase mill & get the uncompromising quality you've come to expect. No detail has been left to chance: rigid Meehanite castings, hardened & precision-ground table, chromed quill, silky smooth spindle rotation on precision bearings & Turcite coating on the ways, just to name a few! These machines are built to last for many years to come & will provide accurate performance all along the way. Beautiful South Bend® light gray & two-tone blue color scheme.
Specifications:
Table size: 9" x 42"
Longitudinal travel: 24-1/2" with power feed, 29-1/2" without power feed
Cross travel: 13"
Vertical (knee) travel: 16"
Table T-slots: (3) 5/8"
Maximum workpiece weight: 750 lbs.
Spindle motor: 2 HP, 3-phase, 220V, 60 Hz
Spindle taper: R-8
Spindle speeds: 80–5600 RPM (16 steps)
Spindle nose to table: 0"–18"
Spindle centerline to column surface: 6"–19"
Quill travel: 5"
Automatic vertical feeds (per revolution): 0.0015", 0.003", 0.006"
Head swivel: (L & R) 90° & (F & R) 45°
Ram travel (In/Out): 13"
Ram swivel: 180°
Approximate shipping weight: 2161 lbs.
Net machine weight: 1940 lbs.
Overall dimensions: 63" W x 81" H x 58" D
Features:
Allen Bradley® controls
Japanese NSK/NTN bearings
Table, knee and ram are equipped with dual locking mechanisms
Balanced spindle and high-precision P4 (ABEC-7) bearings for smooth, quiet and precise operation
Turcite-coated ways
Each machine comes with its own QC report for tested tolerances
South Bend® brass nameplate
Meehanite® casting
Built in the typical South Bend® "no compromises" fashion
Fagor DRO
Standard Equipment:
Longitudinal table power feed with rapid override
One shot lubrication
Tool box and operational manual
Work light
Each machine crated individually
Optional Equipment:
Be the first to write a review . . .