South Bend | SKU: SB1048PF | Model: SB1048PF
21" x 120" Turn-Nado Gearhead Lathe with DRO

South Bend SB1048PF - 21" x 120" Turn-Nado Gearhead Lathe with DRO
SKU:
SB1048PF
|
Model:
SB1048PF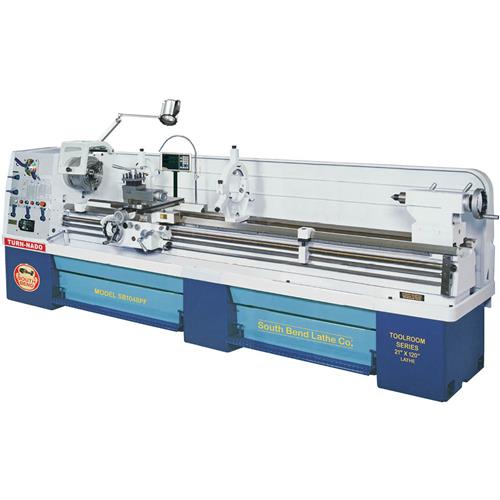 click to zoom
tap to zoom
Free shipping within the Contiguous United States.
Act Fast!
Sales of this outlet item are limited to quantity on hand.
Free shipping within the Contiguous United States.
Act Fast!
Sales of this outlet item are limited to quantity on hand.
Please note this is a special order item; 50% down payment is required at time of order and there is a four month lead time.
South Bend® quality is built into every one of these fantastic gearhead lathes! Features include universal QC gearbox, extra long saddle for stability, pull out chip pan, and of course, a full compliment of standard equipment that includes 3 & 4-jaw chucks, steady & follow rests, micrometer carriage stop and a lot more. Just check out the specs below and you'll agree, these lathes will be a handsome addition in any busy shop.
These South Bend gearhead lathes are supplied with an adjustable feed rod clutch and stop collar on the feed rod. This is a great safety feature when working close to the chuck. Set the stop collar so the saddle and tool post are positioned at a safe distance from the chuck and tighten the lock screw. Adjust the feed rod clutch to a low setting. If the carriage comes into contact with the collar, the clutch slips, saving your machine from a serious crash.
Specifications:
Swing over bed: 21"
Distance between centers: 120"
Swing over cross slide: 14.01"
Swing over gap: 31.10"
Cross slide travel: 11"
Compound travel: 5.39"
Spindle nose: D1-8
Spindle bore: 3.149"
Spindle taper: MT #7
Spindle speeds: (16), 20-1600 RPM
Tailstock taper: MT #5
Tailstock travel: 6.5"
Tailstock barrel diameter: 3"
Inch threads: (38) 2 to 72 TPI
Metric threads: (40) 0.4 to 14 mm
Modular pitches: (18) 0.3 to 3.5 MP
Diametral pitches: (21) 8 to 44 DP
Longitudinal feed range: 0.0015" to 0.04"
Cross feed range: 0.00075" to 0.02"
Spindle motor: 15 HP, TEFC induction
Voltage/Amps: 440V, 3-Phase
Coolant motor: 1/8 HP, TEFC induction
Approximate shipping weight: 7178 lbs.
Standard Equipment:
Fagor DRO
12" 3-Jaw Scroll Chuck (Bolt on Jaws)
14" D1-8 4-Jaw Independent Chuck
Chuck Safety Guard with Limit Switch
14" Faceplate
Steady Rest
Follow Rest
Halogen Work Light
Coolant System
Dead Center MT #5, 2 pcs
Spindle Center Sleeve MT #7 - MT #5
Micrometer Carriage Stop
4-Way Tool Post
Tool Set & Box
Level Pads 10 pcs.
Features:
Three V-way Bed
FAG German Precision Bearings
Full Length Splash Guard
Operation Manual
Allen Bradley Controls
Handwheel Safety Guard
Sliding Chip Tray
Wood Crate
Show More...
California Proposition 65 Warning
Customers who purchased this item also purchased

: