South Bend | SKU: SB1028F | Model: SB1028F
Mill 10" x 54" with DRO

South Bend SB1028F - Mill 10" x 54" with DRO
SKU:
SB1028F
|
Model:
SB1028F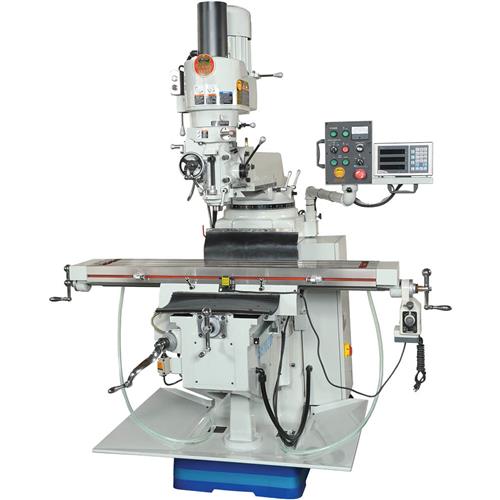 click to zoom
tap to zoom
See this item in our 2019 Main Catalog!
636
Free shipping within the Contiguous United States.
Act Fast!
Sales of this outlet item are limited to quantity on hand.
Free shipping within the Contiguous United States.
Act Fast!
Sales of this outlet item are limited to quantity on hand.
For applications that require large capacities and high tolerances, this full featured 10" x 54" Vertical Milling Machine is ideal! Discerning machinists will appreciate its electronic variable speeds, fully articulated head/ram assembly, table and knee power feed, chromed quill, high quality spindle bearings, double-bronzed leadscrew nut, Allen Bradley electronics, and swing arm mounted controls. The 5 HP, 3-phase motor runs on single-phase 220V power with a Yaskawa inverter to provide variable spindle speeds without requiring 3-phase power. True to its South Bend name, this outstanding milling machine will surpass expectations!
Specifications:
Table size: 10" x 54"
Longitudinal travel: 35"
Cross travel: 16"
Vertical (knee) travel: 14-1/4"
Table T-slots: (3) 5/8"
Spindle motor: 5 HP, 3-phase, AEVF, 1725 RPM, 220V
Spindle taper: R-8
Spindle speeds: 60-5000 RPM (electronic variable)
Spindle nose to table: 2-1/4"-16-1/2"
Spindle centerline to column: 6-1/2" x 26"
Quill travel: 5"
Automatic vertical feeds (per revolution): 0.0015", 0.003", 0.006"
Head swivel: (L&R) 90 degrees & (F&B) 45 degrees
Ram travel (In/Out): 19-1/2"
Column swivel: 360 degrees
Approximate shipping weight: 3350 lbs.
Dimensions: 66" L x 77" W x 89" H
Footprint: (L x W ) 41-1/2" x 24-1/2"
Features:
Allen Bradley electronic components
High-quality, low-vibration AEVF spindle motor
Built-in single-phase to 3-phase Yaskawa power inverter
P4 (ABEC-7) high-precision angular contact spindle bearings
X & Y leadscrew nuts double-bronzed for ultra-smooth movement with minimal backlash
Lever-action one-shot pump way lubrication system
Control panel mounted on adjustable arm
Complete built-in coolant system
Table elevation power feed (Z-axis)
Variable speed X-axis power feed
Auto-downfeed with micro-adjustable stop
Hardened and precision-ground table surface
Chromed-steel quill
Heavy-duty spindle brake
Standard Equipment:
Fagor 3-axis DRO with 0.0002" resolution
Yaskawa 5.5 KW/220V inverter
Longitudinal table power feed (X-axis) with rapid override
Table elevation (Z-axis) power feed
Heavy-duty power draw bar
One shot lubrication
Flood coolant system
Chip pan for base
Tool box and manual
Optional Equipment:
Show More...
California Proposition 65 Warning
Customers who purchased this item also purchased

: