Item# G0920 Model# G0920
Grizzly G0920 - 22"/44" Open-Ended Drum Sander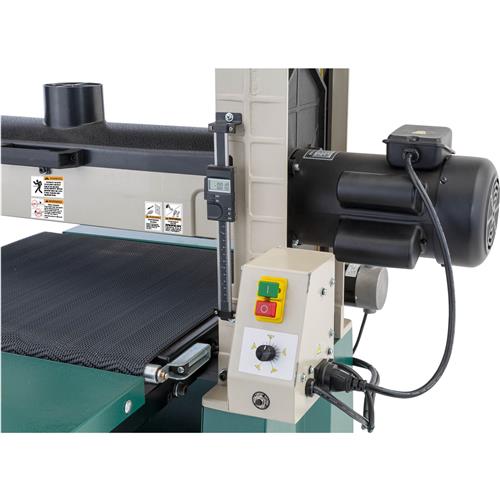 Buy now! Sale ends 8/14/23 (PST)
G0920 22"/44" Open-Ended Drum Sander
Need to sand wide panels or that live edge slab on your project list?
The open frame design of the G0920 22"/44" Open-Ended Drum Sander allows you to sand workpieces up to 44" wide. Simply sand one half, turn the piece around, and sand the other half.
The 2 HP motor supplies plenty of power to rotate the 5" computer-balanced aluminum sanding drum.
The sandpaper length needed is 3" wide by 127" long. For a full range of replacement paper for the G0450, shop here.
The variable-speed conveyor can be adjusted between 0–10 feet per minute.
The digital depth gauge offers a precise reading of the distance between the table and the sanding drum.
The spring-tensioned sandpaper fasteners make changing belts quick and simple.
You'll get precision results and long-lasting durability thanks to the drum height handwheel, industrial-duty rubber conveyor belt, heavy-duty enclosed stand, and easy conveyor belt tracking.
Like all Grizzly drum sanders, the G0920 comes with a 1-year warranty which covers parts and assures the unit is free from factory defects. (Consumables are not covered by the warranty.)
The G0920 manual was written by our U.S. based Technical Documentation Department and is packed with useful information.
The complete and easy-to-read manual provides full instructions on how to assemble and maintain your sander.
The Grizzly Customer Service and Technical Support Teams are U.S. based.
Parts and accessories for the sander may be available online and shipped from the Grizzly parts warehouse in Springfield, MO.
SPECIFICATIONS:
Drum motor: 2 HP, 230V, single-phase, 7.5A
Feed motor: 50W, 1A
Maximum stock thickness: 5"
Minimum stock thickness: 1/4"
Maximum sanding width: 44"
Minimum sanding width: 2"
Minimum board length: 9"
Sandpaper type: 3" width roll, plain backed
Sandpaper speed: 2300 FPM
Conveyor feed rate: Variable, 0–10 FPM
Drum size: 5"
Dust port size: 4"
Footprint 23-1/2" x 32-1/2"
Overall dimensions 42-1/2" W x 43-1/2" D x 61" H
Approximate shipping weight: 341 lbs.
FEATURES:
Variable-speed conveyor
Digital thickness readout
Spring-loaded sanding belt tension/sandpaper
4" Dust port with hose hook
Industrial-duty rubber conveyor belt
Push button circuit breaker for easy reset
View More Details