Item# G0562Z Model# G0562Z
Grizzly G0562Z - 3 HP Double Canister Dust Collector.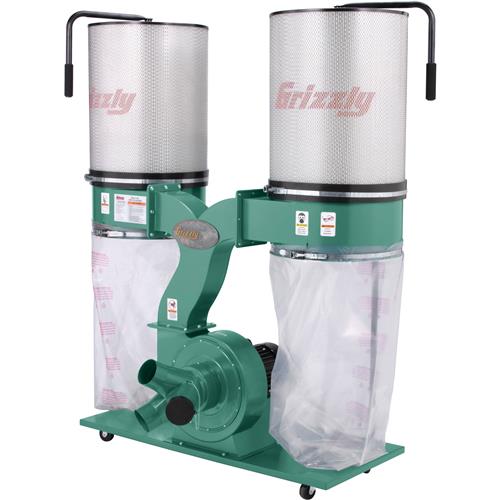 Our canister filters have 6 times the filtering area of regular bags and have a built in cleaner
Allows filtering of the air to 1 micron with minimal loss of performance
Motor: 3 HP, 240V, single-phase, 12A
Air suction capacity: 2320 CFM
Newly designed 7" inlet has removable heavy-duty steel "Y" fitting with three 4" inlets
Want the ultimate dust collector in your shop? Then this powerful dust collector is just what you need. Simply move the convenient top mounted lever back and forth to remove any dust caked onto the filter, and in seconds you are back to full performance capacity. The steel duct from the impeller to the filter improves performance and reliability and with just a glance you'll know when it's time to haul out the chips thanks to clear bottom bags. Extra bags ship with the machine and are available from us to really make cleaning easy.
CSA certified meeting CSA C22.2 #243-M91 and UL 1017-4th standards!
Other features include:
12-3/4" blower/impeller
16.9" static pressure
87dB sound rating
19-5/8" x 23-5/8" canister filter (x2 canisters), (diameter x depth)
41" lower bag length (x2 bags)
11.4 cubic foot bag capacity
57-7/8" length x 32" width x 71" height overall dimensions.

With the canister filter, simply turn the handle on the top a half turn in either direction for cleaning the canister. The handle controls three cleaning flappers inside and shakes the dust from the filter letting the fine dust fall directly into the collection bag. The canister filter is made of spun bond polyester with 1 micron filter capacity. Clear plastic collection bag with Quick Clamp. Approximate shipping weight: 232 lbs.

Optional Bag Replacement: H5783 Upper Canister; T20543 Lower Bag
View More Details