Item# T1242 Model# T1242
Grizzly T1242 - 30-Ton Shop Press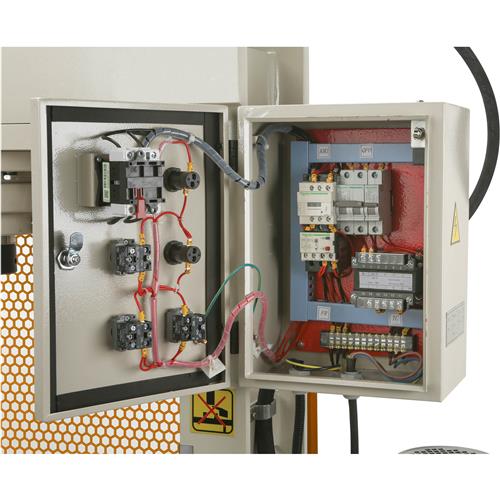 Grizzly T1242 30-Ton Shop Press
A heavy-duty press for all your pressing needs.
Shop presses are commonly used to press tight-fitting parts together. The T1242 30-Ton Electric/Hydraulic Shop Press offers the maximum pressure for typical shop presses performing manufacturing, automotive or general mechanical work.
It is important that the press bed be set to keep the workpiece as close to the ram as possible to ensure optimum operation. With that in mind, the T1242 has five table height positions.
The 3 HP, 220V, single-phase hydraulic pump motor is powered by easy-access push-button controls. The 2" sliding piston head is horizontally adjustable for off-center parts and has a maximum 10" stroke.
The 30-Ton Shop Press includes a carriage/table lifting chain, two steel table plates, and a full-size rear-guard plate.
Like all Grizzly presses, the T1242 comes with a 1-year warranty which covers parts and assures the unit is free from factory defects.
The T1242 manual was written by our U.S.-based Technical Documentation Department and is packed with useful information. The complete and easy-to-read manual provides full instructions on how to assemble and maintain your shop press.
The Grizzly Customer Service and Technical Support Teams are U.S.based. Parts and accessories for the shop press may be available online and shipped from the Grizzly parts warehouse in Springfield, MO.
Made in an ISO 9001 factory
SPECIFICATIONS:
Motor: 3 HP, 220V, single-phase, 13.5A
Max. applied pressure: 60,000 lbs. (30 Tons)
Max. stroke: 10"
Table to piston distance: 7-3/4" to 36-1/2"
Piston head diameter: 2"
Working plate size: 30" W x 12-3/4" D
Maximum workpiece width: 27"
Approximate shipping weight: 1232 lbs.
Footprint: 40" W x 27" D
Overall dimensions: 50" W x 27" D x 72" H
FEATURES:
Motor-driven hydraulic operation
Built-in pressure gauge
Welded steel frame for maximum rigidity
Sliding head for off-center parts
Two table plates
Precision-ground cast-iron table
Five table height positions
Protective rear shielding
View More Details