Item# G0695 Model# G0695
Grizzly G0695 - 8" x 30" 1-1/2 HP Variable-Speed Knee Mill with Ram Head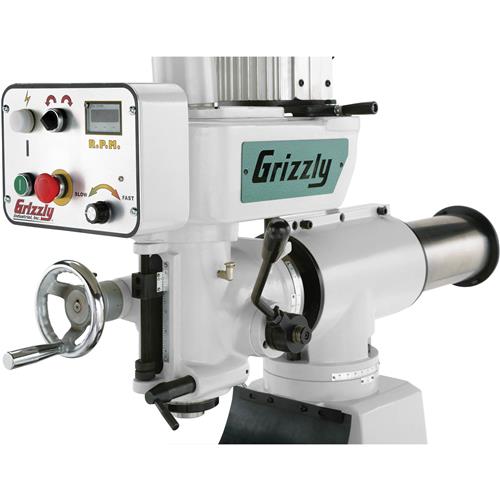 G0695 8" x 30" 1-1/2 HP Variable-Speed Knee Mill with Ram Head
This knee mill will be a fine addition to any home shop, school, or job shop!
The G0695 8" x 30" 1-1/2 HP Variable-Speed Knee Mill with Ram Head runs on single-phase power using an inverter.
The state-of-the-art frequency drive inverts and modulates the power to give you smooth speed changes with robust torque.
Now you can have speeds from 200 to 2250 RPM with just the turn of a dial.
The head slides in and out, swivels, and tilts 45° left-to-right, enabling extremely versatile operations.
Features hardened and precision-ground leadscrews, dovetail ways, turret-style column, and fine downfeed on quill.
Like all Grizzly mills, the G0695 comes with a 1-year warranty which covers parts and assures the unit is free from factory defects. (Consumables are not covered by the warranty.)
The G0695 manual was written by our U.S. based Technical Documentation Department and is packed with useful information.
The Grizzly Customer Service and Technical Support Teams are U.S. based. Parts and accessories for the mill are available online and shipped from the Grizzly parts warehouse in Springfield, MO.
SPECIFICATIONS:
Motor: 1-1/2 HP, 220V, 3-phase, 4.8A
Power source: 220V, single-phase
Spindle taper: R-8
Spindle travel: 3-1/2"
Spindle speed: Variable, 220–2250 RPM
Max distance spindle-to-table: 20"
T-Slots: 3@ 1/2" wide, 2-3/16" centers
Table size: 8" x 30"
Longitudinal table travel (X-axis): 18-1/2"
Cross table travel (Y-axis): 7-1/2"
Vertical table travel (Z-axis): 17-3/4"
Head tilt 45° left/right
Ram travel: 18"
Drilling capacity: 3/4" mild steel
Overall size: 42-3/4" W x 40-1/2" D x 79" H
Approximate shipping weight: 1006 lbs.
FEATURES:
Convenient one-shot lubrication system
High-precision ball bearings
Bronze nut on longitudinal and cross feed leadscrews
Variable-speed frequency drive allows speeds from 200 to 2250 RPM
Hardened and precision-ground leadscrews
Runs on single-phase power using an inverter
Cast-iron construction throughout machine
View More Details
Backordered - More on the way