Item# G1168 Model# G1168
Grizzly G1168 - Track Feeder w/ 4 Speeds, 3-Phase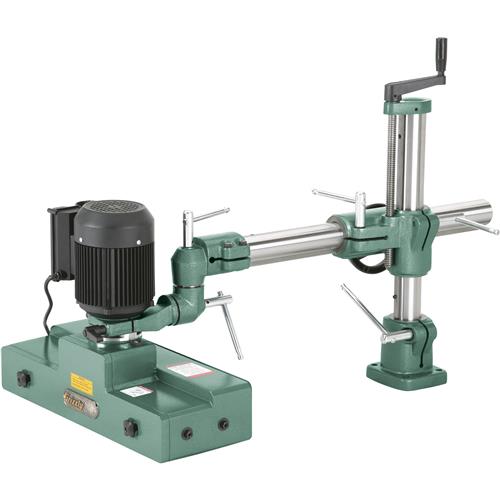 If you do any kind of production ripping or milling, you know what a big chore it can be feeding by hand, especially with longer and wider stock. For those who want to increase production, upgrade, or add on another stock feeder, we have a power feeder to match virtually any application and budget.
Made in an ISO 9001 factory
FEATURES:
Track feed with four speeds and forward/reverse
Track is spring tensioned with 3/4" suspension
Heavy-duty gear reduction with hardened gears
X-, Y-, Z-axis adjustment
1-year warranty
SPECIFICATIONS:
Motor: 1 HP, 220V, 3-phase, 3.4A
Feed speeds: (4) 14.5, 29, 39, 78 FPM
Rotation: Forward & reverse
Max. height of track: 8-1/2"
Min. workpiece length: 8"
Horizontal travel: 24-1/4"
Swing: 360°
Track: (3 pieces) synthetic rubber, 1/2" x 44"
Track suspension: 3/4"
Approx. shipping weight: 150 lbs.
View More Details