Item# W1888 Model# W1888
Shop Fox W1888 - 10" Hybrid Table Saw With Riving Knife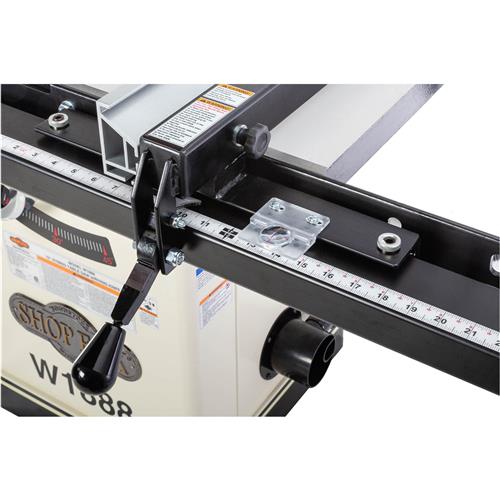 Motor: 2 HP
Tablesaw type: Hybrid
Blade size: 10 in.
Maximum cutting height @ 90deg: 3-1/8 in.
Maximum cutting height @ 45deg: 2-1/8 in.
Maximum ripping capacity - right: 31 in.
Table type: Precision-Ground Cast Iron
Overall table size: 40-1/8 in. x 27 in.
Shipping weight: 449 lbs.
Hover to View Details
Overview
W1888 Shop Fox 10" Hybrid Table Saw With Riving Knife
The W1888 Hybrid Table Saw stands out from the crowd with innovative features, such as a fully enclosed blade guard with its own separate dust port, an easy-glide, two position fence system that quickly converts for narrow ripping, and a quick-release spreader/riving knife for easy changeovers.
Combine those features with the heavy-duty cast-iron table, trunnions, and blade adjustment handwheels, as well as sturdy preformed steel cabinet, and you have a solid machine that beats all others in its class.
SPECIFICATIONS:
Motor: 2 HP, 115V/230V (prewired 115V), single-phase, 16A/8A
Rip capacity: 31-1/2" right, 11-3/8" left of blade
Max depth of cut at 90°:3-1/8"
Max depth of cut at 45°: 2-1/8"
Table Size: 40-1/8" x 27"
Distance from front of table to center of blade: 16-1/4"
Floor-to-table height: 34-1/4"
Arbor diameter: 5/8"
Arbor speed: 4000 RPM
Max width of dado: 13/16"
Dust port size: 4"
Footprint: 19-1/2" x 20-1/2"
Dimensions: 63" x 40" x 48"
FEATURES: