Item# W1876 Model# W1876
Shop Fox W1876 - 6" Benchtop Jointer With Spiral-Type Cutterhead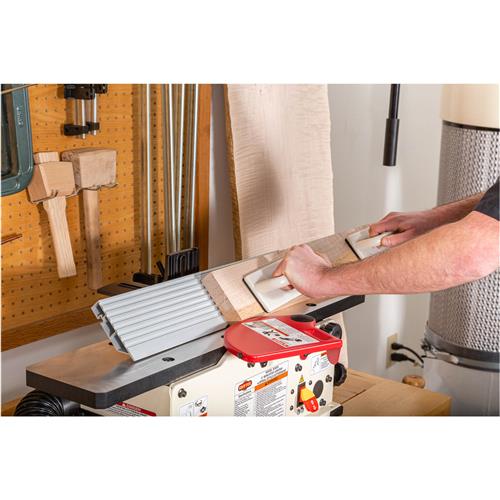 Motor: 1-1/2 HP
Table size: 30 in. x 6-1/4 in.
Table type: Cast Aluminum
Table adjustment: Knob
Cutterhead type: Spiral
Cutterhead diameter: 2 in.
Max depth of cut: 1/8 in.
Fence size: 4-1/4 in. x 19-3/4 in.
Shipping weight: 44 lbs.
Hover to View Details
Overview
W1876 6" Benchtop Jointer with Spiral-Type Cutterhead
This is a lot of jointer in a small-package.
The W1876 6" Benchtop Jointer will square up edges with the spiral-type cutterhead with HSS indexable inserts.
A spiral-type cutterhead allows smoother finishes, quieter operation, and less maintenance compared with straight-knife cutterheads.
The 12 high-speed steel (HSS) inserts sit square to the axis of the cutterhead, with the cutting edges perpendicular to the workpiece. HSS has been heat treated for hardness and wear resistance, which keeps a sharp edge longer than other carbon steels.
Each two-sided insert can each be rotated once to expose a new sharp edge.
The knob-adjustable infeed table with lock provides ultra-precision cutting depth adjustments.
The W1876 also features an inch and metric cut depth indicator and an east-to-adjust extruded-aluminum fence.
You won't find a more feature-packed 6" benchtop jointer anywhere else.
Like all Shop Fox planers, the W1876 comes with a 2-year warranty covering parts and assuring the unit is free from factory defects. (Consumables are not covered by the warranty.)
The W1876 manual was written by our U.S. based Documentation Department is packed with useful information.
The Woodstock Technical Support team is U.S. based. Parts and accessories for the planer may be available online and shipped from the Woodstock parts warehouse in Springfield, MO.
Made in an ISO 9001 factory
CSA and UL certified
SPECIFICATIONS:
Motor: 1-1/2 HP, 120V, single-phase, 10A
Maximum depth of cut: 1/8"
Maximum width of cut: 6"
Bevel jointing: 0–45°
Cutterhead type: 6-Row spiral-type
Cutterhead diameter: 2"
Cutterhead speed: 11,000 RPM
Cutter insert type: Indexable HSS
Cutter insert size: 14mm x 14mm x 2mm
Number of inserts: 12
Table size: 6-1/4" x 30"
Dust port size: 2-1/2"
Dimensions: 30" x 17-1/2" x 13-1/2"
Approximate shipping weight: 44 lbs.
FEATURES:
Spiral-type cutterhead with 12 indexable HSS inserts
2-1/2" dust port
Cast aluminum infeed and outfeed tables
Infeed table height adjustment lock
INCLUDES:
Two safety push blocks
Torx T-25 T-handle driver
Hex wrenches 2.5, 4mm