Item# M1114 Model# M1114
Shop Fox M1114 - Benchtop Sandblast Cabinet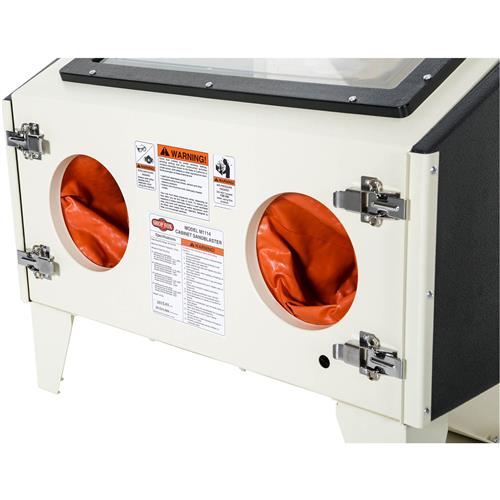 Shop Fox M1114 Benchtop Sandblast Cabinet
This blast cabinet is great for preparing small parts.
The M1114 Sandblaster is equipped with an industrial-duty blast gun with ceramic tip, a siphon hose, built-in lamp, large viewing window, and sealed glove ports.
The hopper recycles and stores the sandblasting media for reuse or easy removal.
Safely blast away paint and rust without making a mess around your shop.
Like all Shop Fox cabinets, the M1114 comes with a two-year warranty which covers parts and assures the unit is free from factory defects.
The M1114 manual was written by our U.S. based Technical Documentation Department and is packed with useful information. The complete and easy-to-read manual makes it easier to use and maintain your blasting cabinet.
The Woodstock Customer Service and Technical Support Teams are U.S. based. Parts and may be available online and shipped from the Woodstock parts warehouse in Springfield, MO.
SPECIFICATIONS:
Two 16"W access doors
Window: 9" x 10-3/4"
Air pressure requirement: 60-100 PSI
Recommended air supply: 5-14 CFM
Abrasive capacity: 10 lbs.
Abrasive type: Dry only
Lighting type: 15 Watt LED
Overall size: 24-1/2" W x 19-1/2" D x 21" H
Approximate shipping weight: 50 lbs.
FEATURES:
Two-year warranty!!
Two 16" W access doors
View More Details