Item# W1812 Model# W1812
Shop Fox W1812 - 2 HP 7" Planer / Moulder with Stand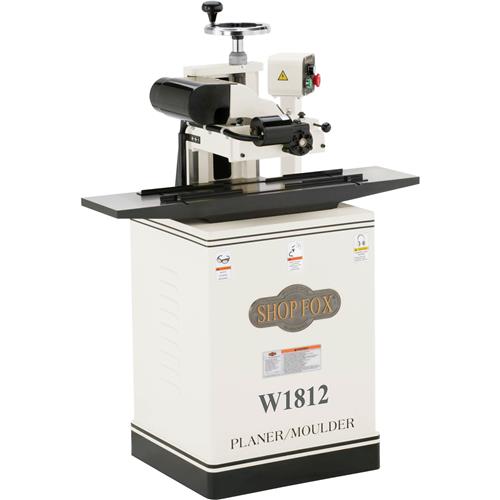 W1812 Shop Fox 2 HP 7" Planer / Moulder
The next generation W1812 2 HP 7" Planer / Moulder features precision-ground cast-iron wings for increased work support and T-slots for easy guide rail adjustment.
The pedestal-mounted controls allow you to adjust the variable-speed feed motor for unsurpassed control over planing and moulding cutting results.
The open-end design allows you to make curved mouldings with the optional elliptical jig.
If you make your own mouldings and frames, you need this machine!
Like all Shop Fox planers, the W1812 comes with a 2-year warranty which covers parts and assures the unit is free from factory defects. (Consumables are not covered by the warranty.)
The W1812 manual was written by the U.S. based Woodstock Technical Documentation Department and is packed with useful information. The complete and easy-to-read manual makes it easier to assemble and maintain your sander.
The Woodstock Customer Service and Technical Support Teams are U.S. based. Parts for the planer may be available online and shipped from the Woodstock parts warehouse in Springfield, MO.
Made in an ISO 9001 factory
CSA certified
SPECIFICATIONS:
Motor: 2 HP, single-phase, 240V, 10.8A
Variable-speed feed motor: 1/8 HP
Power transfer: cutterhead is belt drive, feed rollers are chain drive
Cutterhead speed: 7000 RPM
Cuts per minute: 14,000
Cuts per inch: 64-300
Feed rate: 0-18 FPM
Max. profile depth: 3/4"
Max. profile width: 6-3/4"
Number of knives: 2
Knife type: HSS
Knife length: 7-1/8"
Knife width: 1-1/2"
Knife thickness: 1/4"
Max. planing width: 7"
Min. stock length: 9"
Min. stock thickness: 1/4"
Max. stock thickness: 7-1/2"
Dust port: 4"
Footprint: 21" x 19"
Overall size: 36-1/4"L x 22"W x 34-1/2"H
Approximate shipping weight: 324 lbs.
FEATURES:
Two-year warranty!!
Precision-ground cast-iron table, infeed, and outfeed extension wings
Dovetailed way for cutterhead housing with precision gib adjustments
Pedestal-mounted controls with variable-speed dial
Rubberized steel feed rollers
Powder-coated finish
One-piece base cabinet
View More Details