Grizzly | Model: G0690
10" 3HP 220V Cabinet Table Saw with Riving Knife
Grizzly G0690 - 10" 3HP 220V Cabinet Table Saw with Riving Knife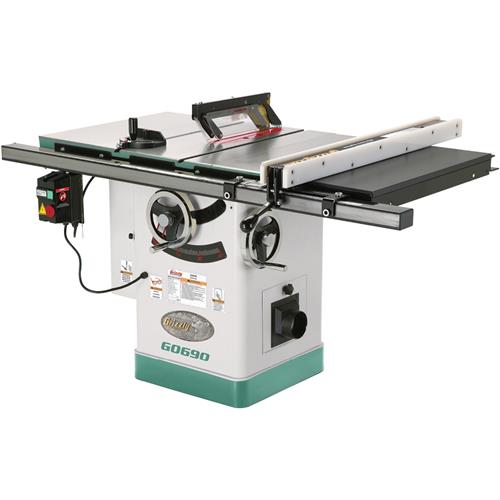 click to zoom
Destined to be the gold standard for 10" left tilting Cabinet Table Saws, this saw will be the focal point in any shop. Every part of this saw says quality and performance. From its heavy cast iron trunnions, 3 HP Leeson® motor and triple belt drive to its massive cast iron table and wings, this Table Saw should last a lifetime. You'll also appreciate its camlock T-fence, riving knife, heavy cast handwheels, magnetic switch, T-slot miter gauge and 4" dust collection port. This saw is what dreams are made of! CSA certified meeting CSA C22.2 #71.2-08 and UL 987 standards.
SPECIFICATIONS:
Motor: 3 HP, 220V, single-phase Leeson®
Blade tilt: Left
Table height from floor: 34"
Table size with extension: 27" x 40"
Arbor speed: 4300 RPM
Arbor size: 5/8"
Maximum dado width: 13/16"
Maximum depth of cut @ 90°: 3-1/8"
Maximum depth of cut @ 45°: 2-3/16"
Maximum rip capacity: 29-1/2"
Distance from front of table to blade at maximum cut: 12-1/4"
Distance from front of table to center of blade: 17-1/4"
Overall dimensions: 62"L x 41"W x 40"H
Approximate shipping weight: 530 lbs.
FEATURES:
Includes 10" x 40T blade and H3308 Push Stick!
Leeson motor
Precision ground cast iron table
Cast iron trunnions
4" dust port
T-slot miter gauge
Includes riving knife and blade guard
Camlock T-fence with HDPE face
Quick release devise for changing guard/riving knife
Powder-coated paint
Includes standard and dado table inserts
Quick release riving knife
Quick release motor guard
Quick release splitter assembly
Easy-glide fence system
Knurled knobs for adjusting fence
Nylon runners inside fence head assembly
T-square type fence system
Setscrew holding table insert down, with adjustable screws inside
A precision hardened and ground polished cast iron top that is, AT THE VERY LEAST, equal to the saw you are comparing to
Compare with similar items:
---
Purchased 4 yrs. ago. I use it nearly everyday and it has held up very well. I do a lot of continuous cutting and I have never had any problems with it.