Grizzly | Model: G0512
Edge Sander w/ Wrap-Around Table
Grizzly G0512 - Edge Sander w/ Wrap-Around Table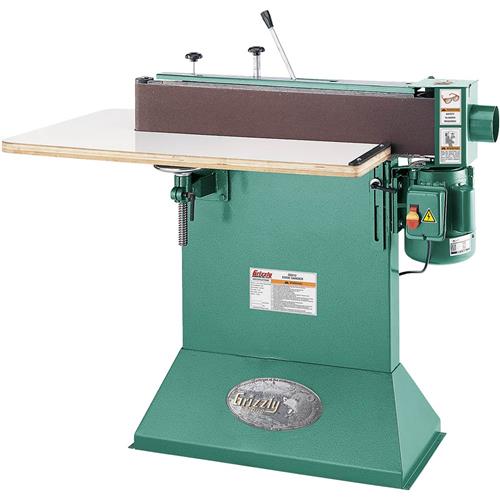 click to zoom
This Sander was developed for those projects that require a large support area and have long straight sides or curves. The specially designed 2-1/8" diameter roller allows you to get into tighter radius projects like guitar bodies, curved chair legs, etc. Table is supported in four positions to eliminate sagging and to provide a stable base while working. Quick belt release mechanism allows fast belt changes.
Specifications:
Motor: 1-1/2 HP, 110V/220V, single-phase, 60 Hz, 1725 RPM, TEFC capacitor start induction, prewired 220V
Amps: 20A at 110V, 10A at 220V
Rubber idler roller: 2-1/8", shielded ball bearing
Drive roller: 4-1/2", cast aluminum
Table size: 24" x 42-1/4"
Table height: 33"–39"
Overall size: 52-1/2" long x 24" wide x 48-3/4" high (with handle up)
Platen size: 6-1/4" x 31-1/2", graphite coated
Sanding belt size: 6" x 80"
Belt speed: 1800 FPM
Approximate shipping weight: 251 lbs.

Features:
Paddle safety switch with removable key
Power transfer: direct drive
Shielded and permanently lubricated ball bearings
Welded steel powder-coated base
Table: Composite with plastic laminate surface
Extended sanding surface
Work stop
4" dust port
Quick belt release
Belt tracking and tension adjustment
Handwheel table height adjustment
Powder-coated stand
Be the first to write a review . . .