Item# G0597 Model# G0597
Grizzly G0597 - 10" 1-1/2 HP Heavy-Duty Bench Grinder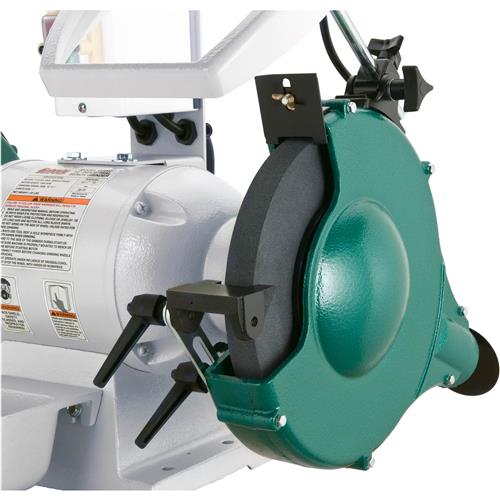 G0597 10" 1-1/2 HP Heavy-Duty Bench Grinder
These are the choice if you desire the best heavy-duty bench grinders.
The G0597 10" 1-1/2 HP Heavy-Duty Bench Grinder was designed to be better than anything available on the market today.
The vibration free and exceptionally smooth 1-1/2 HP motor powerfully spins at 1800 RPM and runs on 220V.
The eye shields are fully adjustable to minimize sparks and debris thrown at the user. They have a built-in light under each eye shield to maximize visibility.
The industrial-duty housing and heavy-duty tool rests are made from cast-iron for added mass and durability while minimizing vibration.
A dust collection port can be found at the rear of each grinding wheel. If a dust collection system is not attached, both ports have spark deflectors that direct sparks downward.
The G0597 uses standard 10" type 1 wheels with a 1" bore. Replacement wheels in a variety of abrasive types and grit sizes are available on Grizzly.com.
Like all Grizzly bench grinders, the G0597 comes with a 1-year warranty which covers parts and assures the unit is free from factory defects.
The G0597 manual was written by our U.S. based Technical Documentation Department and is packed with useful information. The complete and easy to read manual makes it easier to assemble and maintain your bench grinder.
The Grizzly Customer Service and Technical Support Teams are U.S. based. Parts for your machine may be available online and shipped from the Grizzly parts warehouse in Springfield, MO.
SPECIFICATIONS:
Motor: 1-1/2 HP, 220V, single-phase, 8.5A
Grinding wheel size: 10" x 1"
Arbor size: 1"
Arbor speed: 1800 RPM
Bolt pattern: 8-1/4" x 3-3/8"
Mounting hole size: 7/16"
Overall dimensions: 24" W x 17-1/2" D x 18-1/2" H
Approximate shipping weight: 163 lbs.
FEATURES:
Adjustable eye shields with built-in lights
Removable water/coolant troughs
Dust ports with downward directing spark deflectors
Industrial duty cast-iron castings and tool rests
View More Details