Item# G0873 Model# G0873
Grizzly G0873 - 100W 23" x 35" CNC Laser Cutter/Engraver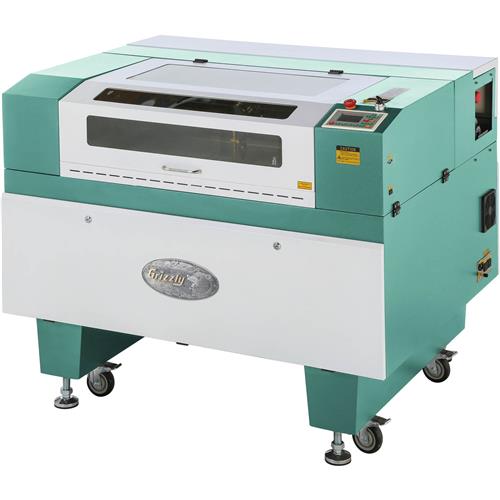 G0873 100W 23" x 35" CNC Laser Cutter / Engraver
The G0873 23" x 35" CNC Laser / Engraver is easy to use, makes quick cuts, and engraves ultra-fine details.
Thanks to the 100W CO2 laser, the G0873 works through a huge array of material types at speeds over 2360 in./min.
The autofocusing laser produces a perfect cut each time and with the stepper driven gantry on sealed cartridge bearing rails, it's able to cut one square millimeter features at a resolution better than 0.002"!
Like all of the Grizzly CNC laser cutters, the G0873 comes with a 1-year warranty covering parts and assuring the unit is free from factory defects. (Consumables are not covered by the warranty.)
The Grizzly Technical Support team is U.S. based. Parts and accessories for the CNC laser cutter may be available online and shipped from the Grizzly parts warehouse in Springfield, MO.
Made in an ISO 9001 factory
SPECIFICATIONS:
Power requirement: 110V, single-phase, 20A
X-Axis motor: Stepper, 5.8A
Y-Axis motor: Stepper, 5.8A
Z-Axis motor: Stepper, 4.2A
Laser type: Sealed CO2 laser tube
Laser power: 100W
Wavelength: 10600nm
Laser focus: Automatic
Cutting speed: 0-1200 in./min.
Minimum shaping character: 0.04" x 0.04"
Resetting position accuracy: +/-0.002"
Maximum cutting height: 7"
Cutting accuracy: 0.05mm
Table dimensions: 23-1/2" x 35-1/2"
Worktable adjustment: motorized up and down
Overall dimensions: 54" W x 43" D x 43-1/2" H
Approximate shipping weight: 705 lbs.
FEATURES:
WiFi connectivity capable
LCD control panel
Automatic tool height adjustment
7" height capacity with powered Z-axis
Sealed cartridge bearing rails
Auxiliary power for exhaust fan and circulating water cooler
USB Port
Includes: Extraction fan, air exhaust hose, water cooler, honeycomb table, air pump, and design software
View More Details