Item# G0458 Model# G0458
Grizzly G0458 - 18" 1-1/2 HP Single-Phase Open End Drum Sander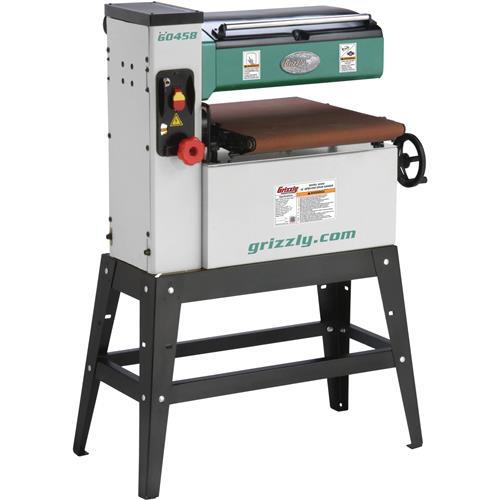 Our 18" Open-End Drum Sander offers a lot of sanding capacity in a small amount of floor space. Sand stock up to 36" wide and 4-1/2" thick! Unlike other open-end drum sanders, the table moves up and down instead of the head. This means drum support is much more rigid during sanding operations, giving you more consistent results. Also includes built-in dust collection. Check out the rest of the features below and you'll agree that this feature-packed sander is an incredible value!
Specifications:
Sanding motor: 1-1/2 HP, 110V, single-phase, 15 Amps
Drum surface speed: 4000 FPM
Conveyor feed rate: Variable, 2-12 FPM
Maximum stock dimensions: 36" wide x 4-1/2" thick
Minimum board length: 6"
Minimum board thickness: 1/8"
Sanding drum size: 4"
Dust collection port: 2-1/2"
Overall size: 50" H x 35" W x 24" D
Approximate shipping weight: 300 lbs.
Features:
Stand-alone dust collection with dust bag
V-belt drive
Steel construction
18" x 44-1/2" abrasive conveyor belt
Variable-speed conveyor
Stationary drum head stock
Pass back roller
Safety switch
Uses 3" wide sandpaper
Easy access for sandpaper changes
Two pressure plates
Includes 100-grit sandpaper
View More Details