Item# G4013 Model# G4013
Grizzly G4013 - 20-Gallon Parts Washer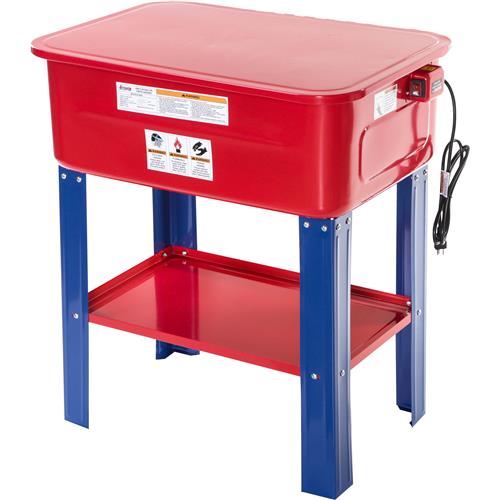 G4013 20-Gallon Parts Washer
A dedicated parts washing station.
Clean your tools and parts in a safe, designated location in your shop.
The G4013 20-Gallon Benchtop Parts Washer features a removable shelf with work basket, a sealed 0.7A pump motor, and a flexible gooseneck spigot.
The pump provides a flow of approximately 50 gallons per hour.
A hinged lid with a fusible link automatically shuts lid in the event of a flash fire.
Like all Grizzly washers, the G4013 comes with a 1-year warranty which covers parts and assures the unit is free from factory defects.
The G4013 instructions were written by our U.S. based Technical Documentation Department and is packed with useful information.
The complete and easy-to-read instructions make it easier to assemble and maintain your parts washer.
The Grizzly Customer Service and Technical Support Teams are U.S. based.
Parts and accessories for the parts washer may be available online and shipped from the Grizzly parts warehouse in Springfield, MO.
SPECIFICATIONS:
Motor: 110V, single-phase, 0.7A
Tub depth: 10" D
Maximum liquid level: 10-Gallon or 5" D
Minimum liquid level: 6-Gallon or 3" D
Nozzle diameter: 5-1/2mm
Pump output: 50 GPH
Overall dimensions: 30" D x 21" W x 35" H
Approximate shipping weight: 58 lbs.
View More Details