Item# T27978 Model# T27978
Grizzly T27978 - 50 Ton Air/Hydraulic Shop Press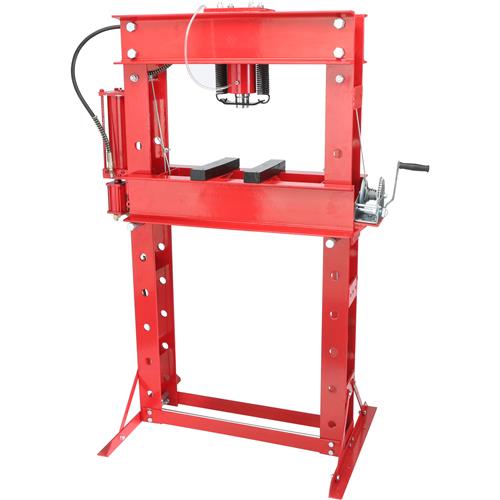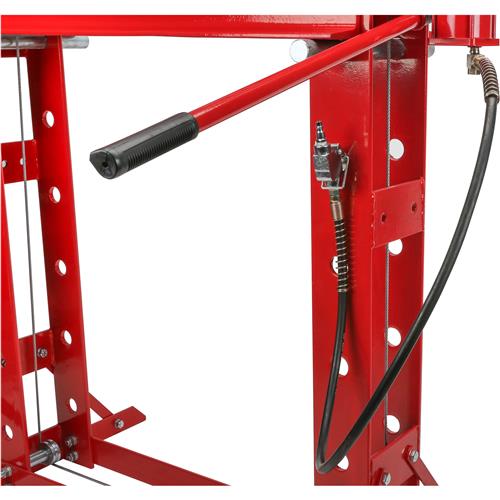 T27978 50-Ton Air/Hydraulic Shop Press
For your toughest pressing and stamping needs.
The T27978 50-Ton Air/Hydraulic Shop Press features a fast-pump core that allows the head assembly to lower to the workpiece quicker than a slow-pump core, a hand-operated winch for raising and lowering the bed, and a spring return ram for faster retraction.
The two-speed pump operates the ram at a slow or fast pace to accommodate a wide variety of pressing applications.
The pressure gauge allows the user monitor the ram force as applied to the workpiece using the pump handle.
The winch and pulley system lowers and lifts the work table to accommodate workpieces of different sizes.
Like all Grizzly presses, the T27978 comes with a 1-year warranty which covers parts and assures the unit is free from factory defects.
The T27978 manual was written by our U.S.-based Technical Documentation Department and is packed with useful information. The complete and easy-to-read manual provides full instructions on how to assemble and maintain your shop press.
The Grizzly Customer Service and Technical Support Teams are U.S. based. Parts and accessories for the shop press may be available online and shipped from the Grizzly parts warehouse in Springfield, MO.
SPECIFICATIONS:
Ram max applied force: 100,000 lbs. (50 tons)
Ram maximum stroke: 7-7/16"
Ram diameter: 2-1/4"
Maximum distance to table: 39"
Minimum distance to table: 9-1/4"
Hand winch lifting capacity: 1000 lbs.
Working air pressure: 110-125 PSI
Bed support pin diameter 1-3/16"
Bed adjustment holes: 8
Bed adjustment hole spacing: 6" On center
Hydraulic fluid type: Standard hydraulic jack oil
Footprint: 39-1/2" L x 27-1/2" W
Overall dimensions: 51" W x 36" D x 68" H
Approximate shipping weight: 540 lbs.
FEATURES:
Pneumatic and hydraulic hand-pump operation
Winch and pulley system for lifting and lowering work table
Built-in pressure gauge
Welded steel frame for maximum rigidity
Adjustable table accommodates wide variety of operations
Includes two steel arbor plates
View More Details
Backordered - More on the way