Item# G0893 Model# G0893
Grizzly G0893 - 6" Benchtop Jointer with Helical Cutterhead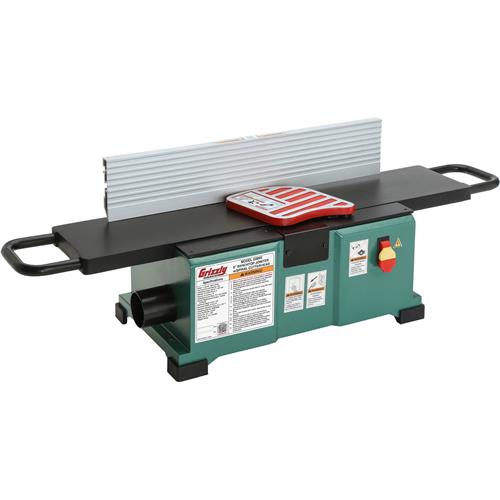 G0893 6" Benchtop Jointer with Helical Cutterhead
Finally, a benchtop jointer with a helical cutterhead!
Forget the hassle of changing knives and reap the benefits of carbide inserts with the Grizzly G0893 6" Benchtop Jointer with Helical Cutterhead.
Each insert can be rotated up to three times to provide a new sharp edge and leave silky-smooth surfaces on even the most figured hardwoods.
Exclusively featuring: grab handles on the table ends for portability, a baked-on table coating that provides a smooth-gliding surface and a built-in dust collection system that can be combined with a separate dust collector.
This feature-packed, one-of-a-kind benchtop jointer won't disappoint!
Like all Grizzly jointers, the G0893 comes with a 1-year warranty covering parts and assuring the unit is free from factory defects. (Consumables are not covered by the warranty.)
The G0893 manual was written by our U.S. based Documentation Department is packed with useful information.
The Grizzly Technical Support team is U.S. based. Parts and accessories for jointer are available on-line and shipped from the Grizzly parts warehouse in Springfield, MO.
Made in an ISO 9001 factory
CSA certified
SPECIFICATIONS:
Motor: 1-1/2 HP, 120V, single-phase, 12A
Maximum width of cut: 6"
Maximum depth of cut: 1/8"
Cutterhead diameter: 1-7/8"
Cutterhead type: 3-row spiral with 18 inserts
Insert size & type: 15 x 15 x 2.5mm, indexable carbide
Cutterhead speed: 8,000 RPM
Table size: 6-1/4" x 30-3/8"
Fence size: 22-1/2" L x 4-5/16" H
Minimum workpiece length: 8"
Minimum stock thickness: 1/2"
Dust port size: 2-1/2"
Footprint: 11" x 19-1/2"
Overall dimensions: 36" W x 19" D x 12-1/2" H
Approx. shipping weight: 56 lbs.
FEATURES:
Fence stops at 45°, 90° & 135°
Grab handles on table ends for portability
Aluminum tables with low-friction coating
Built-in dust collection system with 2-1/2" dust port and collection bag
Two push blocks included
View More Details