Item# G9968 Model# G9968
Grizzly G9968 - 7-1/2 HP Shaper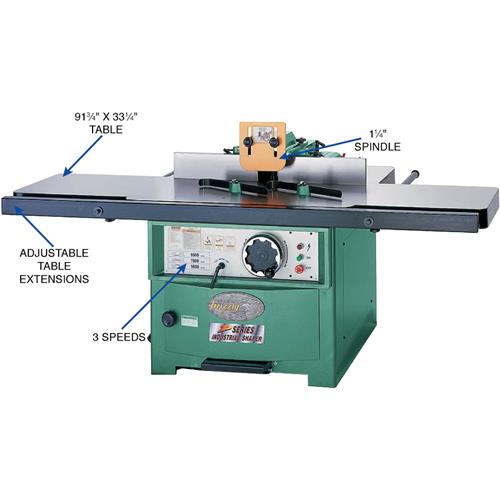 Grizzly G9968 7-1/2 HP Shaper
A professional-grade shaper capable of shaping full-sized doors.
The massive G9968 7-1/2 HP Shaper is built to exacting specifications for heavy-duty, professional use.
This shaper boasts enormous capacity thanks to the gigantic 33-1/4" x 99-3/4" table!
It operates at speeds of 5500, 7500 and 10,000 RPM.
With a max cutter diameter of 11-3/4" any cutter over 3-1/2" requires operating at the slowest speed.
The cutter guard is threaded into the precision-ground cast-iron table.
The two-piece fence lets you micro-adjust to compensate for different cutting thicknesses and special shaping applications.
Four spring hold downs increase safety and production by holding the workpiece flat on the table and snug against the fence.
The G9968 comes with additional safety features found only on high-end machinery. A foot brake will stop or slow the cutter immediately after use. The spindle lock will keep the spindle in a fixed position during shaper operation.
Like all Grizzly shapers, the G9968 comes with a 1-year warranty which covers parts and assures the unit is free from factory defects. (Consumables are not covered by the warranty.)
The G9968 manual was written by our U.S. based Technical Documentation Department and is packed with useful information. The complete and easy-to-read manual makes it easier to assemble and maintain your shaper.
The Grizzly Customer Service and Technical Support Teams are U.S. based. Parts for the shaper may be available online and shipped from the Grizzly parts warehouse in Springfield, MO.
Made in an ISO 9001 factory
SPECIFICATIONS:
Motor: 7-1/2 HP, 220V/440V* (prewired 220V), 3-phase, 20A/10A
Maximum cutter height: 5-1/2"
Maximum cutter diameter: 11-3/4"
Spindle diameter: 1-1/4"
Spindle length: 6"
Spindle capacity under nut: 5-1/2"
Spindle speeds: 5500, 7500, 10,000 RPM
Spindle travel: 5"
Spindle openings: 4", 8", 13"
Table counterbore diameter: 13"
Table size: 33-1/4" x 99-3/4"
Floor-to-table height: 33"
Footprint: 33-5/8" x 29"
Overall dimensions: 91-3/4" W x 40" D x 45" H
Approximate shipping weight: 1832 lbs.
FEATURES:
Micro-adjustable fence with quick-release levers and knob-equipped adjustment
Four spring hold-down assemblies
Two table inserts: 8" OD x 4" ID and 13" OD x 8" ID
Spindles include spacers and nuts
Vertical spindle lock
Spindle brake
5" dust port
Front table pullout extensions
Cast-iron miter gauge adjustable 60° left/right
Includes service wrenches
*This machine is prewired for 220V. We can rewire to 440V in a few days' time for a fee of $325. Please contact Grizzly Technical Support at (570)546-9663 before placing your order.
View More Details