Item# T27877 Model# T27877
Grizzly T27877 - 96" 24-Drawer Stainless Steel Industrial Cabinet with Wood Top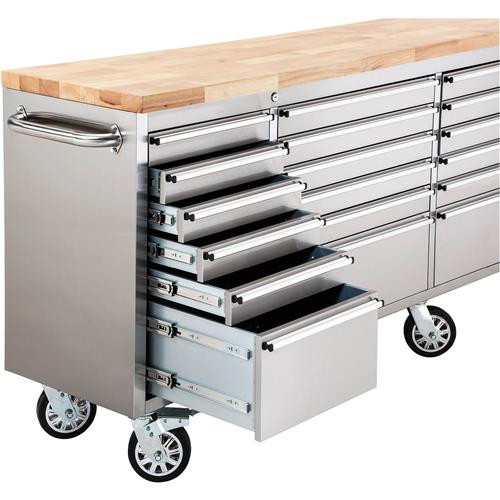 T27877 96" 24-Drawer Stainless Steel Industrial Cabinet
You asked for big, so we gave you our biggest!
At 8' wide, the T27877 24 Drawer Stainless Steel Industrial Cabinet can store all your tools, plus anything else you can think of, boasting over 14.5 cubic feet of storage space.
The long-lasting and durable rubberwood top gives you plenty of bench space to work on.
The convenient central locking system allows you to lock and unlock all 24 drawers simultaneously with a single key.
When you need to move the cabinet, the large stainless-steel handles on each end and sealed ball-bearing casters make it a breeze.
Be sure to then secure the cabinet in position with the convenient locking casters.
Like all Grizzly cabinets, the T27877 comes with a 1-year warranty which covers parts and assures the unit is free from factory defects.
The T27877 instructions were written by our U.S. based Technical Documentation Department and is packed with useful information.
The Grizzly Customer Service and Technical Support Teams are U.S. based. Parts for the cabinet are available online and shipped from the Grizzly parts warehouse in Springfield, MO.
SPECIFICATIONS:
(10) drawers at 16"W x 15"D x 2-1/2"H
(10) drawers at 26-1/2"W x 15"D x 2-1/2"H
(2) drawers at 16"W x 15"D x 8-3/4"H
(2) drawers at 26-1/2"H x 15"D x 8-3/4"H
Drawers have 100 lb. capacity ball bearing slides with EVA liners
1500 lb. total capacity
Overall dimensions: 96"W x 37-1/2"H x 18-1/8"D
Approximate shipping weight: 435 lbs.
FEATURES:
Easy to clean 430 Stainless Steel with fingerprint resistant finish
24 drawers providing 14.5 cubic feet of storage space
Aluminum drawer pulls
Six 6" casters (two swivel and four locking swivel)
Shielded cartridge ball bearing casters
Stainless steel tubular handles on each end
Central locking system including two keys
View More Details