Item# H7827 Model# H7827
Grizzly H7827 - Universal Drill Press Table with 3" Fence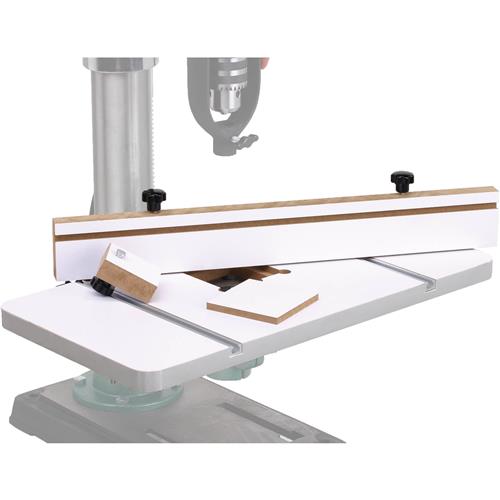 H7827 Universal Drill Press Table with 3" Fence
Save time and money with this ready-to-go complete kit.
This simple, yet effective table design will save hours of cutting, calculating, assembly time and the material costs of making your own table setup because it's all right here!
By adding the 23-3/4" wide x 11-7/8" deep H7827 Universal Drill Press Table to your machine, you'll improve your work support and help increase accuracy.
The table features a 3" high fence with adjustable stop block. Both the fence and stop block slide along T-slots for a quick, secure set-up.
The center of the table features a removable/replaceable 4" square center block for thru-drilling past the table.
The H7827 Universal Drill Press Table fits a huge array of drill press tables thanks to the included universal table clamps.
Like all Grizzly tables, the H7827 comes with a 1-year warranty covering parts and assuring the unit is free from factory defects.
The Grizzly Customer Service and Technical Support Teams are U.S. based.
Parts for the drill press table are available online and shipped from the Grizzly parts warehouse in Springfield, MO.
SPECIFICATIONS:
Aluminum insert T-slots: 2
Wooden T-slots: 1
Construction: Melamine-coated MDF
Color: White
Approximate shipping weight: 12 lbs.
Overall size: 23-3/4" W x 11-7/8" D x 3" T
Note: Drill press, mortising chisel, and C-clamps not included.
View More Details