Item# M1111 Model# M1111
Shop Fox M1111 - 6" x 21" 1 HP Deluxe Variable-Speed Mill/Drill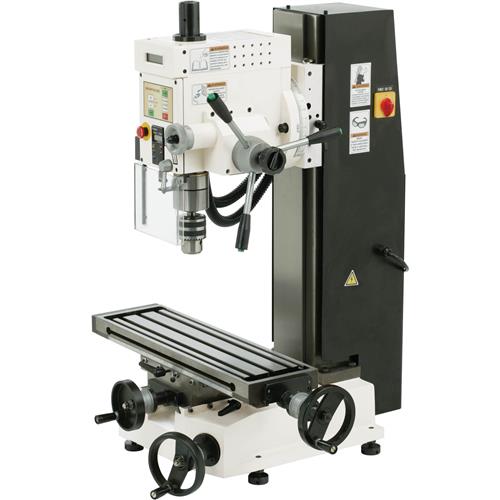 The M1111 Milling Machine has all of the important features of the M1110, but with additional time-saving luxuries. This deluxe milling machine is equipped with a quick-tilt headstock for horizontal milling, 1 HP brushless DC motor, a multi-function digital depth scale on the quill, push-button speed control, and digital spindle tachometer. The quick-reverse tapping feature simplifies hole threading—Just put the machine in "tapping mode," start the tap, and once threading is complete, push a button to reverse the spindle and immediately withdraw the tap from the hole. A back-lit digital display provides precise spindle speed for matching tooling and material. All of these extra features make the M1111 one of the most sought-after milling machines available!
Made in an ISO 9001 Factory
Specifications
Motor: 1 HP, brushless DC motor, 110V, 12A
Spindle taper: R-8
Spindle travel: 2-3/4"
Swing: 18"
Max. distance spindle to table: 14-3/4"
X/Y-axis handwheel calibration: 0.001"
Z-axis handwheel calibration: 0.0005"
T-Slots: 3 @ 1-11/16" centers, 7/16" wide
Table size: 6-1/4" x 21-5/8"
Table travel (longitudinal): 15-7/8"
Table travel (cross): 5-3/4"
Headstock travel: 14-7/8"
Drilling capacity: 1"
Max. face cutter diameter: 2"
Quill diameter: 60mm (2.362")
Variable speed: 100-1750 RPM
Over 14" of headstock movement
Dovetail column ways for accuracy
Digital readout for spindle depth features metric or inch reading and a zeroing function
Head tilts 90° left & right
Push button variable-speed
Back-lit digital speed display
Reversing buttons on rack handles for tapping
Coolant trough
Front-mounted fine downed knob
Push button motor control for forward, reverse, tapping and ON/OFF
Front-mounted emergency stop button
See-through chip guard with safety switch
Includes 5/8" drill chuck & arbor, 2 T-nuts, 2 open-end combo wrenches, 4 hex wrenches, extra drive belt, and 4 leveling feet
Approximate shipping weight: 426 lbs.
View More Details
Backordered - More on the way