Item# T20828 Model# M1003
Shop Fox T20828 - Vertical Mill 9" x 49"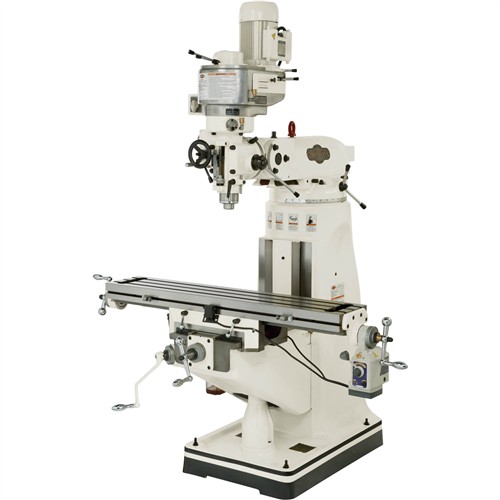 Weighing in at over 2400 lbs of cast iron and hardened precision ground steel, Model M1003 has the size and stability to handle the toughest jobs. With a 2 HP motor driving 8 speeds from 78 to 2400 RPM, 3 speed quill feed with a micrometer depth stop and auto reverse, and a variable speed longitudinal power feed, this machine has the ability to do the most complex and precise jobs. This brute has both power and finesse!
One-shot pump lubrication
Auto down feed
Quill feeds/spindle rev.: .0019", .0035", .0058" Auto stop with micro adjustable stop
R-8 spindle Longitudinal power feed
Hardened and ground table surface Chrome plated, precision-ground quill
Adjustable micrometer quill depth stop
Motor: 2 HP, 110V/220V, single-phase, TEFC, prewired to 220V
Spindle travel: 5"
Table size: 9" x 49"
Table travel (longitudinal): 27"
Table travel (cross): 12"
Max. dist. spindle to table: 18-3/4"
Max. dist. spindle to column: 18-1/2"
Knee travel: 16"
Head tilt: 45° both ways
Head swivel: 90° both ways
T-slots: 3 on 2-1/2" centers, 1/2" studs
Speeds: 8 Range of speeds: 78, 98, 197, 278, 670, 850, 1700 and 2400 RPM
Approximate shipping weight: 2405 lbs.
View More Details