Item# T27033 Model# T27033
Grizzly T27033 - 1/2 Ton Arbor Press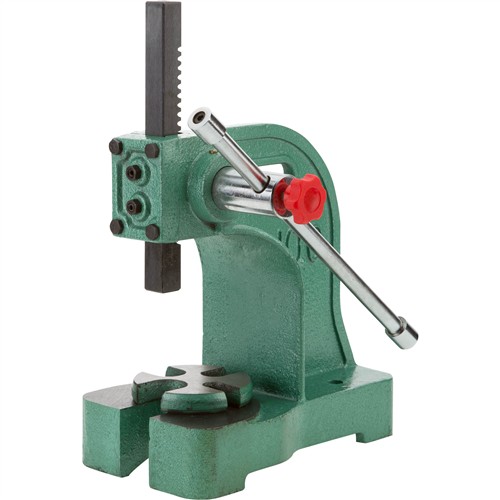 T27033 1/2 Ton Arbor Press
Heavy-duty cast-iron construction for any shop press need.
The T27033 1/2 Ton Arbor Press is designed to perform small press jobs, such as staking, riveting, and installing/removing bearings.
The reversible ram has a magnetic tool holder on one end for securing three included punch tips and accepts dies, inserts, and other tooling for custom work.
The rotating anvil can be removed for additional working height capacity, and the straight handle can be adjusted for different leverage control.
Includes bench mounting holes, three punch tips, and hex wrenches.
Like all Grizzly arbor presses, the T27033 comes with a 1-year warranty which covers parts and assures the unit is free from factory defects.
The T27033 instructions were written by our U.S. based Technical Documentation Department and is packed with useful information.
The complete and easy-to-read instructions make it easier to assemble and maintain your arbor press.
The Grizzly Customer Service and Technical Support Teams are U.S. based.
Parts and accessories for the arbor press are available online and shipped from the Grizzly parts warehouse in Springfield, MO.
SPECIFICATIONS:
Press capacity: 1/2 Ton
Throat depth: 4-5/8"
Anvil diameter: 3-3/8"
Maximum working height: 4-5/8"
Full range of movement: 4-5/8"
Ram Size: 3/4" x 3/4"
Base Size: 5-1/8" W x 9-3/8" D
Overall Size 5-1/8" W x 9-3/8" D x 9-3/8" H
Approximate shipping weight: 17-1/2 lbs.
View More Details