Item# G0624Z Model# G0624Z
Grizzly G0624Z - 10" x 16" Benchtop Wood Lathe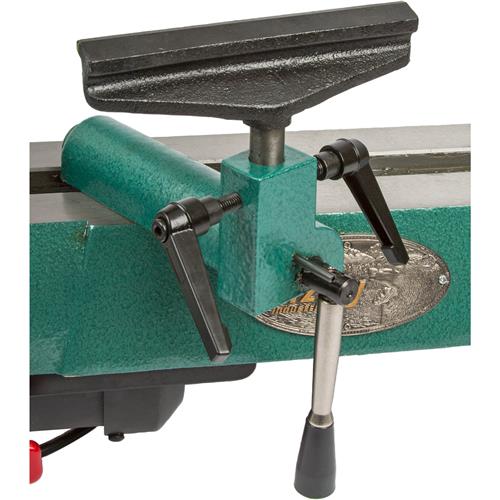 G0624Z 10" x 16" Benchtop Wood Lathe
Benchtop turning done right!
The Grizzly G0624Z 10" x 16" Benchtop Wood Lathe comes with a standard 0.7 HP motor.
Its six spindle speeds from 480 - 4023 RPM give you plenty of power and flexibility for any project.
Heavy-duty cast-iron construction provides plenty of mass and stability for wood turning.
Bolt up to the 3" faceplate and turn plates and bowls up to 10" wide and spindles up to 15-1/2" long.
Add the optional G0625 Bed Extension and you've got a full-size lathe that can turn up to 38" between centers.
Like all of the Grizzly lathes, the G0624Z comes with a 1-year warranty covering parts and assuring the unit is free from factory defects. (Consumables are not covered by the warranty.)
The manual for the G0624Z was written by our US-based Documentation Department and is packed with useful information. The complete and easy to read manual makes it easier to assemble and maintain your lathe.
The Grizzly Customer Service and Technical Support Teams are U.S. based. Parts and accessories for the lathe are available on-line and shipped from the Grizzly parts warehouse in Springfield, MO.
Made in an ISO 9001 factory
CSA certified
SPECIFICATIONS:
Motor: 0.7 HP, 120V, single-phase, 8A
Swing over bed: 10"
Swing over tool rest base (banjo): 7-1/2"
Distance between centers: 15"
Spindle speeds: 5, from 480 - 4023 RPM
Spindle threads: 1" x 8 TPI
Spindle taper: MT#2
Tailstock taper: MT#2
Tool rest width: 6-5/16"
Tool rest post diameter: 5/8"
Footprint: 8-3/4" x 33"
Overall dimensions: 34" W x 8-3/4" D x 15" H
Approx. shipping weight: 104 lbs.
FEATURES:
Includes 3" faceplate
Includes MT#2 live & spur centers
Includes tool rest
View More Details