Item# G0674 Model# G0674
Grizzly G0674 - 12" 6.5 HP 3-Phase Sliding Table Saw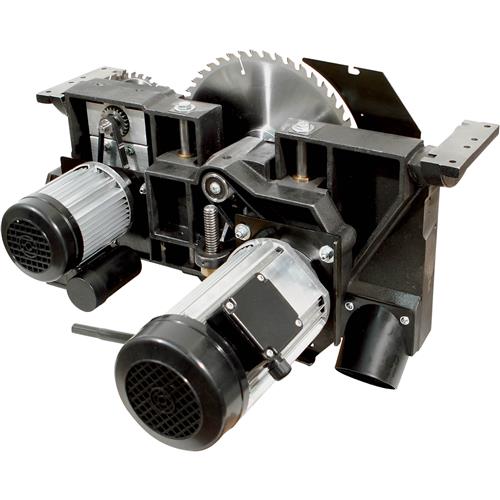 If you appreciate German engineering, you'll love this Sliding Table Saw! It features a separate scoring blade for chip-free panel cutting, anodized aluminum sliding table mounted on hardened prismatic bearings, and a patented trunnion system for effortless bevel settings. For standard ripping operations, the cast iron fence body features a sliding aluminum fence, micro-adjustment knob, digital readout (optional) and fence scale with magnified cursor. You'll also appreciate the heavy cast iron and steel construction throughout, smooth operation and—above all—German ingenuity. You won't be disappointed!
SPECIFICATIONS:
Main motor: 6-1/2 HP, 220V, 3-phase
Scoring blade motor: 1 HP, 220V, single phase
Switch type: Magnetic
Main blade size: 12"
Main blade arbor: 30mm
Main blade tilt: 0-45°
Main blade speed: 4,000 RPM
Depth of cut at 90°: 4-1/4"
Depth of cut at 45°: 3"
Scoring blade size: 4-3/4" (120mm)
Scoring blade arbor: 20mm
Scoring blade tilt: 0-45°
Sliding table size: 12-1/4" x 126"
Maximum rip capacity: 52"
Length of cross cut: 124"
Main table dimensions: 65-3/8" x 53-1/2"
Approximate shipping weight: 1427 lbs.
FEATURES:
Scoring saw blade ensures tear-out free cutting
Patented cast iron trunnion system
Sliding table is anodized aluminum and travels on hardened prismatic bearings
Blades tilt to 45° for bevel cutting
Poly V-belt drive mechanism ensures maximum power transmission
Includes 12" tungsten-carbide tipped blade
Industrial-duty cast iron main table
2" and 4" dust port

*Scales are in Metric
View More Details