Item# G0555X Model# G0555X
Grizzly G0555X - 14" 1-1/2 HP Extreme Series Bandsaw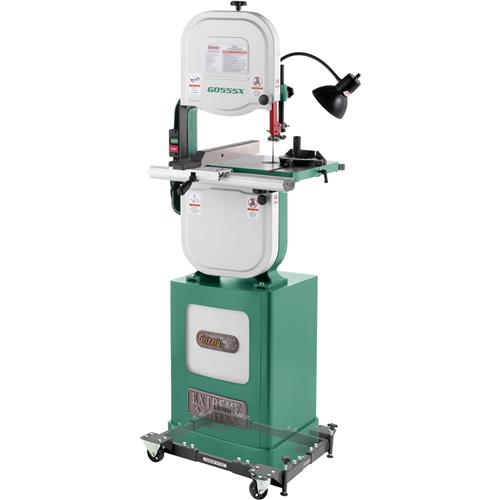 Power and performance for the woodworking hobbyist. Runs on 110V with no special wiring required.
The Grizzly G0555 bandsaw series has long provided a benchmark for woodworking hobbyists. This Extreme version provides 50% more horsepower and swaps the aluminum wheels for cast iron, made the table 6-1/2" longer, and added a built-in work light and patented, extruded-aluminum resaw fence. This model also features a closed cabinet stand with storage.
Combine all these features with the already phenomenal list of standard features and this is one awesome bandsaw.
Add the Grizzly H3051 Riser block kit to increase your cutting capacity to 12 inches high, and an optional H7587 Resaw Fence to make swapping from resawing to regular cuts even simpler and more precise.
This 14" Grizzly bandsaw is one of the most powerful bandsaws available that can make use of standard household 110V power. (If your shop is wired for 220, the G0555x can use it with a simple power cord change.)
The G0555X comes with a 1-year warranty on parts. Support for the G0555x is provided by a US-based product support team and well-stocked parts department.
The Grizzly G0555X 14 inch Bandsaw is built for quality and meets or exceeds CSA22.2 #7 1.2-10 and UL 987-7th standards.
Features:
Powerful 1.5 HP Motor
Deluxe heavy-duty closed stand with storage
Upper and lower ball bearing blade guides
Includes 3/8" bladeFence scale with magnifying window
Fence is adjustable for blade lead
Cast iron framePowder-coated paint
4" dust port
Specifications:
Motor: 1-1/2 HP, 110V/220V, single-phase, 1725 RPM, 15A/7.5A, prewired 110V
Table size: 20-1/2" x 14" x 1-1/2"
Table tilt: 45° right, 15° left
Floor-to-table height: 44"
Deluxe extruded aluminum re-saw fence and miter gauge
Cutting capacity/throat: 13-1/2"
View More Details