Item# G0524 Model# G0524
Grizzly G0524 - 15 HP 3-Phase Straight Line Rip Saw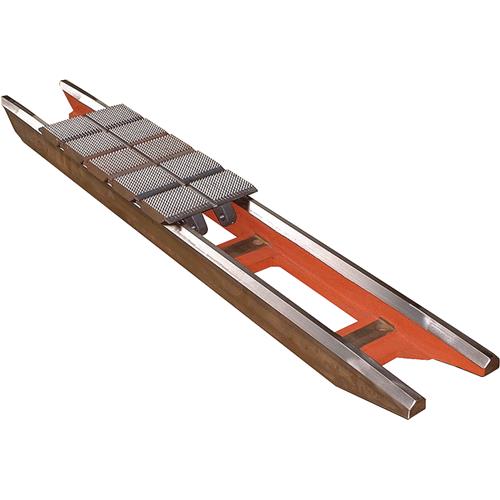 If your shop needs glue-line quality rip cuts, then Grizzly has the saw for you! Designed for the professional shop, the Grizzly G0524 Straight-Line Rip Saw features a variable feed speed of 30-112 FPM, a 53" x 37" precision-ground cast iron table, a 3-7/8" depth of cut capacity, a smooth action conveyor feed system, and an extra long table and rip fence for long boards. Power is supplied by a 15 HP main motor and a 2 HP feed motor. Feature-for-feature and dollar-for-dollar, there is no better saw on the market! Optional Laser Guide w/Arm (H5749) purchased separately.
Features:
Variable-speed conveyor
Dual-bearing driveline for conveyor table
Exclusive 6" wide chain feeding conveyor table for smooth operation
Dual-spindle lock prevents spindle drop while running
Auto-lube system is adjustable for precise lube intervals
Specifications:
Main motor: 15 HP, 220V/440V*, 3-phase
Feed motor: 2 HP, 220V/440V*, 3-phase
Table size: 53" x 37"
Floor to table height: 32-1/4"
Maximum cutting thickness: 3-7/8"
Minimum cutting length: 8" (with included hold-down roller kit)
Feed speed (variable): 30–112 FPM
Saw blade diameter: 10"–12"
Maximum cutting width: 18"
Arbor diameter: 1"
Spindle speed: 4500 RPM
Dust port diameter: (1) 4"
Overall dimensions: 61-1/4" long x 43-1/2" wide x 80-1/2" high
Approximate shipping weight: 2243 lbs.

440V operation requires purchasing additional components and installation by our technicians. Please call customer service at (570) 546-9663 for more information.
View More Details