Item# G0707 Model# G0707
Grizzly G0707 - 24" x 37" Blast Cabinet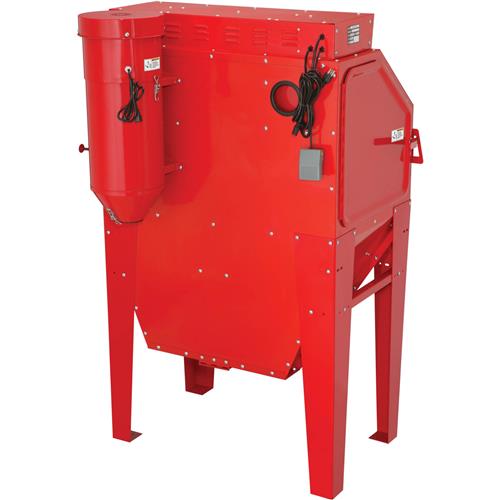 G0707 24" x 37" Blast Cabinet
Packed with features not found on other cabinets in this price range.
The G0707 24" x 37" Blast Cabinet is designed for high-use media blasting operations, where air flow up to 25 CFM and air pressure up to 120 PSI can be used.
Air pressure is fully adjustable with a control panel air pressure regulator.
A fixed blasting gun and a hand-held blasting gun are included in this machine.
Blasting operations through a hand-held blast gun or fixed gun are controlled by a foot valve and control panel.
An internal set of fluorescent work lamps provide illumination during blasting operations, and a built-in dust collector maintains blasting environment visibility.
The cabinet is equipped with two side loading doors for ease of workpiece loading and unloading.
Media is quickly unloaded through the hopper dump port door, and reloaded through a side door.
This is going to save you time and effort on every sandblasting job!
Like all Grizzly sandblasters, the G0707 comes with a 1-year warranty which covers parts and assures the unit is free from factory defects.
The G0707 manual was written by our U.S. based Technical Documentation Department and is packed with useful information.
The complete and easy-to-read manual makes it easier to assemble and maintain your sandblaster.
The Grizzly Customer Service and Technical Support Teams are U.S. based.
Parts and accessories for the sandblast cabinet are available online and shipped from the Grizzly parts warehouse in Springfield, MO.
SPECIFICATIONS:
Dust collector motor: 1-1/2 HP, 110V, single-phase, 11A
Working pressure: 60–80 PSI
Maximum air pressure: 120 PSI @ 5–28 CFM
Maximum abrasive capacity: 400 lbs.
Suggested abrasive capacity: 55 lbs.
Abrasive type: dry only
Maximum load capacity: 132 lbs.
Dust collector filter dimensions 6-3/4" dia. x 12" T
Dust collector filter type: pleated
Dust collector filter rating: 5 Microns
Overall dimensions: 41" W x 36" D x 64-1/2" H
Approximate shipping weight: 231 lbs.
FEATURES:
37-1/8" W x 22-1/2" H x 23-5/8" D work volume
Large side load doors
Panel-mounted electric and air controls
Spare blast tips
Spare window protection sheets
Included dust collector filter
Screened work table
Foot pedal blasting control
Gun blasting system
Hands-Free blasting system
Hopper dump gate
Easy-clean dust collector
Reusable dust collector filter
Element external lighting system
View More Details