Item# G0901 Model# G0901
Grizzly G0901 - 28" Portable Sawmill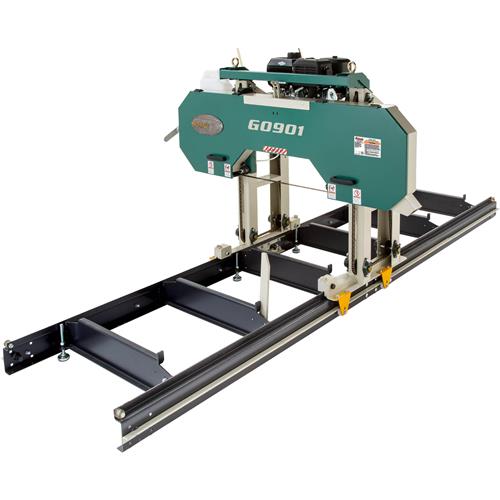 Grizzly G0901 28" Portable Sawmill
Mill your own lumber right off your property!
The all-new Grizzly G0901 28" Portable Sawmill is designed for quick setup with a rock-solid, 12-foot steel track with adjustable feet capable of leveling on just about any surface.
The track is modular, allowing you to easily attach and level additional 6-foot-long sections in order to mill practically any length of lumber you need.
The cut thickness is set in 1/16" intervals with the locking hand crank and the sturdy 4-column saw carriage moves smoothly along the track on ball-bearing rollers.
Two adjustable work stops hold the log in place, while a manually adjusted workpiece clamp prevents movement during cuts.
Our engineers worked hard to create the ultimate sawmill with the capacity and solid performance needed to get the job done right in the field!
The G0901 28" Portable Sawmill comes with a one-year warranty which covers replacement parts.
The product is supported by a US-based support team and parts are available online and shipped from our massive parts department in Springfield, MO.
FEATURES:
Modular track system for varying length requirements
Hand throttle allows easy blade speed control during the cut
Locking hand crank with detents for quickly setting cut thickness in 1/16" increments
Ball-bearing rollers provide smooth movement of saw carriage along track
Leveling feet for stabilizing saw mill on uneven ground surface
Adjustable work stops and clamp for holding log in place during cut
Onboard water reservoir with drip nozzle for blade lubrication
SPECIFICATIONS:
Gas engine: 13-1/2 HP Briggs and Stratton®
Included track length: 144"
Maximum log diameter: 28"
Maximum cut width: 22"
Maximum cut thickness: 6"
Blade size: 1" x 143"
Wheel diameter: 19"
Footprint: 35" x 144"
Overall dimensions: 75" W x 144" L x 56" H
Due to product size, this item must be delivered to a loading dock or unloaded with a forklift. Liftgate not available.
View More Details
Backordered - More on the way