Item# G0849 Model# G0849
Grizzly G0849 - 3 HP Cyclone Dust Collector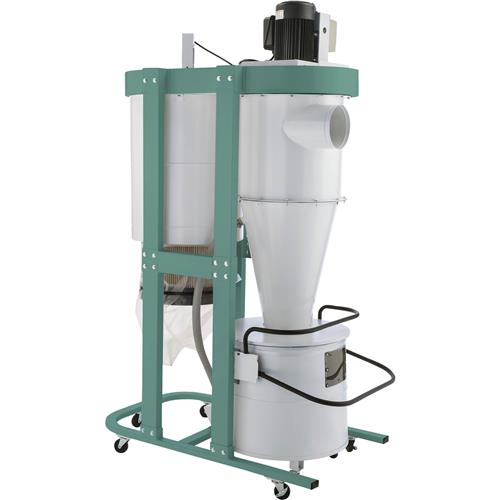 G0849 3 HP Cyclone Dust Collector
Own peace of mind with this dust collection system.
The G0849 3HP Cyclone is the perfect fit for any shop looking to operate up to 3 machines at a time.
It can pull an impressive 1,616 CFM of airflow capacity as a dedicated collector thanks to the convenient mobile all-steel platform.
The G0849 features a massive single pleated filter for collecting fine particulate from 0.2-2 microns and the collector breathes easy thanks to the built-in auto-clean brush system.
If you're looking for the ultimate in shop-ready, two stage dust collection for your home or work, take a close look at this impressive machine.
Like all Grizzly machines, the G0849 comes with a 1-year warranty which covers parts and assures the unit is free from factory defects.
The G0849 manual was written by our U.S. based Technical Documentation Department and is packed with useful information. The complete and easy-to-read manual makes it easier to assemble and maintain your dust collection system.
The Grizzly Customer Service and Technical Support Teams are U.S. based. Parts and accessories for your machine are available online and shipped from the Grizzly parts warehouse in Springfield, MO.
Made in an ISO 9001 factory
CSA certified
SPECIFICATIONS:
Motor: 3 HP, 230V, single-phase, 22A
Intake hole size: 8"
Impeller: 15" steel radial fin
Airflow capacity: 1616 CFM @ 2.0" SP
Sound rating: 83dB
Maximum static pressure: 14.2"
Filter surface area: 96 sq. ft.
Filter: 99.97% efficiency captures 0.2-2 micron dust particles
Collection size: 55-gallon drum
Overall size: 56" W x 43" D x 93-3/4" H
Approximate shipping weight: 585 lbs.
FEATURES:
Steel collection drum with casters for easy dust disposal
Dual-pleated cartridge filter with automatic cleaning motor for maximum filter efficiency
Clear disposal plastic collection bag
Remote-control
View More Details