Item# G0637HEP Model# G0637HEP
Grizzly G0637HEP - 7-1/2 HP 3-Phase Dual-Filtration HEPA Cyclone Dust Collector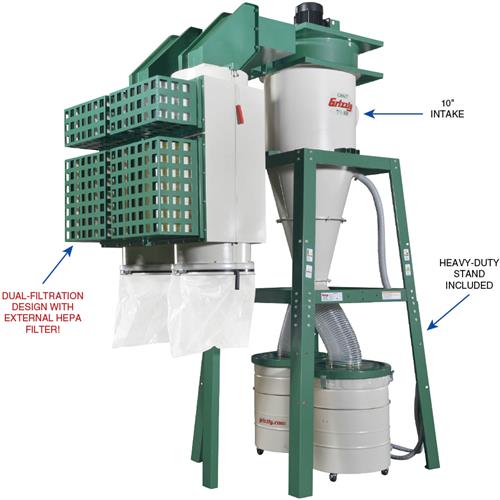 The best of the best! This is the same unit as our G0637, but pre-equipped with an upgraded dual-filtration HEPA filter system! Our dual-filtration HEPA cyclones are geared toward those looking for the best filtration on the market. Features a primary filter with efficiency of 99.9% at 0.2-2 microns and a secondary HEPA filter with efficiency of 99.97% at 0.3 microns in size. The advantage of this dual filtration setup is the majority of all fine dust is captured by the first filter and only the finest dust makes it to the HEPA filter, resulting in up to a 900% increase in the life of the HEPA filter. This results in a superbly long-lasting HEPA filter (of up to 10 years) and the ultimate in clean air quality.
We've taken our extremely successful line of Cyclone Dust Collectors a couple of steps further by adding this 7-1/2 HP monster to our selection. With dual filters, 3468 CFM of airflow capacity, and 14.7" maximum static pressure, this cyclone is ideally suited for mid- to large-sized shops with multiple dust-producing machines running at the same time. An innovative air exhaust muffler keeps the noise level down—without reducing efficiency.
CSA certified meeting CAN/CSA C22.2 #243-10 and ANSI/UL 1017-8 standards!
Specifications:
Motor: TEFC Class "F", 7-1/2 HP, 220V/440V*, 3-phase, 25A/12.5A
Intake hole size: 10"
Filter surface area: 261 sq. ft
Impeller: 18" steel radial fin
Airflow capacity: 3468 CFM @ 4.3" SP
Maximum static pressure (inches of water): 14.7"
Sound level: 78-80 dB
Primary filter: 99.9% at 0.2-2 microns
Secondary filter: HEPA rated 99.97% at 0.3 microns
Collection drums: Steel, 55 gallon x 2
Overall dimensions: 96-1/4" L x 52-1/2" W x 139-3/8" H
Stand: 13 gauge steel
Cyclone body: 16 gauge steel
Blower housing: 11 gauge steel
Approx. shipping weight: 1139 lbs.
Features:
Ramped inlet maximizes dust flow into the collection drums
Steel collection drums have casters for easy dust disposal
Remote controlled magnetic switch
Class "F" motor
Dual pleated filters with cleaning brushes maximize air flow
Standard equipment mufflers reduce noise level without reducing air flow
14.73" static pressure for greater duct design flexibility
Includes stand

*440V operation requires purchasing additional components and installation by our technicians. Please call customer service at (570) 546-9663 for more information
View More Details