Item# T1239 Model# T1239
Grizzly T1239 - Drywall Sander with Vacuum Attachment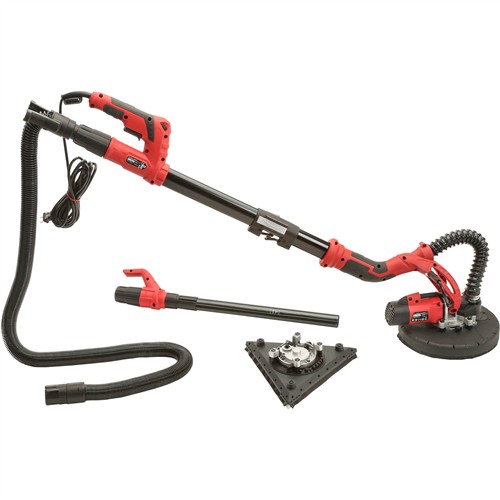 T1239 Drywall Sander with Vacuum Attachment
Turn your large-scale drywall projects into a breeze!
The 1-1/2" hose of the T1239 Drywall Sander with Vacuum Attachment connects easily to most shop vacuums (not included), and uses interchangeable heads that are either 8-hole circular shape or 12-hole triangular, whichever works best for the job ahead.
Quick-change heads make it easily to switch from one to the other and the sanding motor is mounted on the sanding head with a solid seal, making for easy, efficient dust collection while you work!
The dust hose handle features an inline pressure collar for adjusting suction depending on the size of the dust collector connected.
Includes 1 each of 60, 80, 120, 180, and 240 grit 8-hole sanding discs and 1 each of 60, 80, 120, 180, and 240 grit 12-hole 11-1/4" sanding triangles to get you started
This set come neatly organized in a molded case for transport and storage.
The T1239 comes with a 1-year warranty covering parts and assuring the unit is free from factory defects.
The T1239 manual was written by our U.S. based Documentation Department is packed with useful information.
The Grizzly Customer Service and Technical Support Teams are U.S. based.
Parts and accessories for the drywall sander are available online and shipped from the Grizzly parts warehouse in Springfield, MO.
SPECIFICATIONS:
Oscillating motor: 3/4 HP, 120V, single-phase, 5A
Round pad rotation: 600–1500 RPM
Round head diameter: 8-7/8"
Triangle pad oscillations: 3000–6000 OPM
Triangle head size: 11-1/4"
Total length: 43"–71"
FEATURES:
Quick-change round and triangular heads
Quick-change vacuum wand
Hook-and-loop sanding pads
1-1/2" hose connection fits most shop vacuums (not included)
View More Details
Backordered - More on the way