Item# G0922 Model# G0922
Grizzly G0922 - Enclosed 3D Printer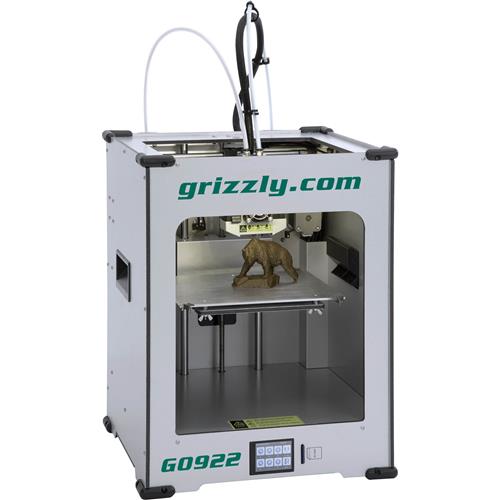 Buy now! While supplies last!
Grizzly G0922 Enclosed 3D Printer
More stable and runs quieter than open-framed 3D printers.
The G0922 3D Printer has an enclosure that protects your work from dust and the elements, and keeps hands away from moving parts. All of this allows the printer to function at maximum efficiency.
Make your own clamp pads, bench dogs, and shims — even custom dust collection adapters. There is an endless variety of handy tools and devices you can make with a 3D printer with designs being made available online every day.
It's a sturdy, enclosed machine with a build volume of 176 cubic inches; ideal for designs with a long print time.
The G0922 is compatible with 1.75mm PLA filament, is equipped with a 0.4mm nozzle, and comes with slicer software.
Multiple color options of PLA filament as well as other accessories are available.
Buy now and receive a free T31835 Red 1.75mm filament, T31836 Blue 1.75mm filament, and T31839 Black 1.75mm filament.
Like all Grizzly 3D printers, the G0922 comes with a 1-year warranty which covers parts and assures the unit is free from factory defects.
The Grizzly Customer Service and Technical Support Teams are U.S. based.
Parts for the printer may be available online and shipped from the Grizzly parts warehouse in Springfield, MO.
SPECIFICATIONS:
Print technology: FFF
Build volume: 6.15" x 4.65" x 6.15"
Layer resolution: 0.1–0.2mm
Nozzle diameter: 0.4mm
Filament diameter: 1.75mm
Material compatibility: PLA
Print file type: .gcode
X/Y precision: 10-micron
Z precision: 10-micron
Motors: Stepper with 1.8° step angle
Ambient operating temperature: 50°F - 104°F
Included software: Winware Slicer Software
Supported OS: Windows
Supported file types: .stl, .gcode
Connectivity: USB, SD card
Overall dimensions: 14-1/2" x 13-1/2" x 19-1/2"
Weight: 30 lbs.
FEATURES:
Durable aluminum cabinet with handles for transport
Easy-adjust aluminum build platform with glass build plate
Digital display prints from PC via USB cable or SD card
View More Details