Item# G0922 Model# G0922
Grizzly G0922 - Enclosed 3D Printer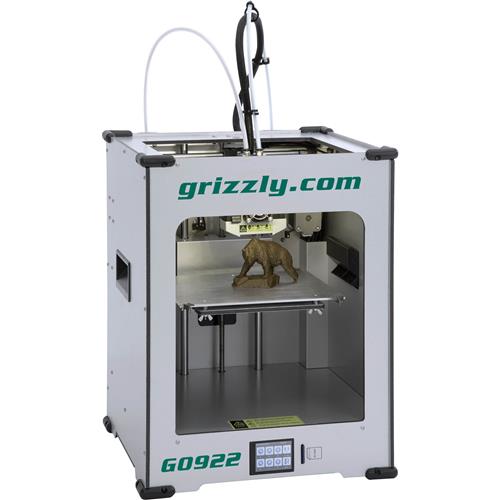 Buy now! While supplies last!
We checked many different models and samples from various suppliers before settling on this high-quality 3D printer that is worthy of the Grizzly brand. The G0922's enclosure protects your work from dust and the elements, and keeps hands away from moving parts. All of this allows the printer to function at maximum efficiency. In addition, the enclosed printer bed is more stable and runs quieter than open-framed 3D printers.
The G0923 is compatible with 1.75mm PLA filament, is equipped with a 0.4mm nozzle, and comes with slicer software. It's a sturdy, enclosed machine with a build volume of 176 in/3, ideal for designs with a long print time. For serious 3D printing projects, grab a Grizzly Enclosed 3D printer today!
Buy now and receive a free T31835 - Red 1.75mm filament- 1 kg, T31836 - Blue 1.75mm filament- 1 kg, and T31839 - Black 1.75mm filament- 1 kg!
SPECIFICATIONS:
Print technology: FFF
Build volume: 6.15" x 4.65" x 6.15" (156 x 118 x 156mm)
Layer resolution: 0.1–0.2mm
Nozzle diameter: 0.4mm
Filament diameter: 1.75mm
Material compatibility: PLA
Print file type: .gcode
X/Y precision: 10-micron
Z precision: 10-micron
Motors: Stepper with 1.8° step angle
Ambient operating temperature: 50°F - 104°F
Included software: Winware Slicer Software
Supported OS: Windows
Supported file types: .stl, .gcode
Connectivity: USB, SD card
Overall dimensions: 14-1/2" x 13-1/2" x 19-1/2"
Weight: 30 lbs.
View More Details