Item# T32540 Model# T32540
Grizzly PRO T32540 - Dual Spindle Doweling Joiner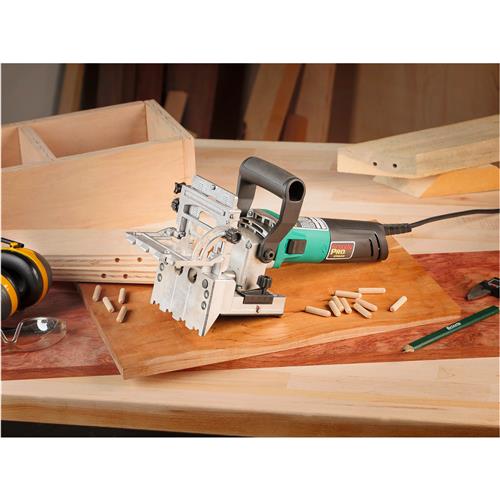 Grizzly PRO T32540 Dual-Spindle Doweling Joiner
Produce super strong joints quickly and accurately every time.
Simply line up the T32540 Dual-Spindle Doweling Joiner on a workpiece and in seconds you'll have two 8mm (5/16") holes drilled with 1-1/4" center-to-center spacing.
If you want strong and accurate joints for your furniture, cabinetry, or construction, this is the tool for you.
When it comes to versatility, this tool has it with a plunging depth of up to 1-1/2" and angle adjustments from 0–90°.
The fence uses a rack-and-pinion adjustment mechanism that allows for drilling at a height of 3/8"–1-1/16". Drilling height depends on your workpiece thickness.
A clear plastic viewing screen over the drilling area supports accurate alignment during drilling operations and helps protect the operator from flying debris.
This doweling joiner is equipped with a 1-1/4" dust port that can attach to a dust collection system or ship vacuum.
Join shelves, frames, and many types of furniture quickly with minimal effort.
This unit comes standard with two 8mm bits with additional T32541 8mm, T32542 10mm, and T32543 12mm bits also available for purchase.
The T32540 comes with a 1-year warranty which covers parts and assures the unit is free from factory defects. (Consumables are not covered by the warranty.)
The T32540 manual was written by our U.S. based Technical Documentation Department and is packed with useful information.
The complete and easy-to-read manual provides full instructions on how to assemble and maintain your doweling joiner.
The Grizzly Customer Service and Technical Support Teams are U.S. based.
Parts for the doweling joiner may be available online and shipped from the Grizzly parts warehouse in Springfield, MO.
SPECIFICATIONS:
Motor: 1 HP, 120V, 5.9A
Arbor speed: 17,000 RPM
Supported drill bit sizes: 8–12mm
Maximum plunging depth: 1-1/2"
Height adjustment: 3/8"–1-11/16"
Bit spacing center to center: 1-1/4"
Fence tilt angles: 0–90°
Fence tilt stops: 22.5°, 45°, 67.5°
FEATURES:
Adjustable plunging depth up to 1-1/2"
Clear fence viewing window for accurate drill bit placement
Removable fence with drilling height adjustment of 3/8–1-11/16"
Drilling angle of 0–90° with stops at 22.5°, 45°, and 67.5°
Dust extraction below drill bits
Rack-and-pinion height adjustment
Safety switch
View More Details