Item# SB1063 Model# SB1063
South Bend SB1063 - 12" x 58" CNC Knee Mill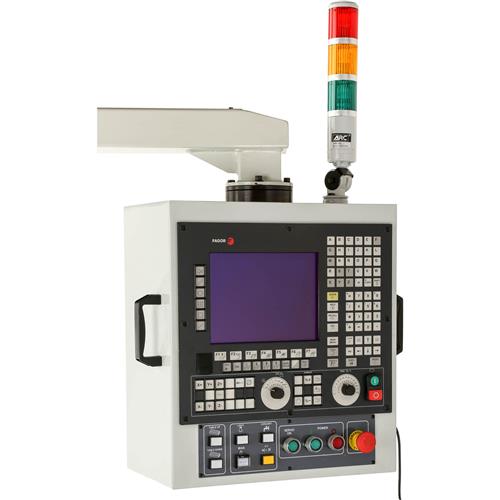 SB1063 12" x 58" CNC Knee Mill
If a new CNC mill is something your shop needs, don't settle for anything less than the best!
The South Bend SB1063 boasts a massive 12-1/2" x 58" precision-ground cast iron table, and is paired with a 5HP, NT 40 spindle capable of 4200 RPM's, and full 3-axis CNC capability!
With the touch of a button, switch between a manually-operated mill to a fully capable, servo-driven CNC machine powered by Fagor controls.
The headstock is mounted on a wide dovetail movable ram with 20" of travel on the column and 320° rotating capability.
The headstock itself can swivel 90° left/right or 45° forward/back so it can be positioned for nearly any setup needed.
The oversize table runs silky smooth thanks to ball screw-driven axis resulting in a mill with the precision to handle nearly any job.
It is constructed with high-grade Meehanite castings, and the saddle and knee ways are Turcite coated and built with wide square ways for maximum support and accuracy throughout the full range of movement.
The auxiliary work light, power drawbar for easy tooling changes, and built-in coolant system are just a few additional features that help place this machine on the top tier of milling machines.
The manual was written by our U.S. based Technical Documentation Department and is packed with useful information.
The complete and easy-to-read manual provides full instructions on how to assemble and maintain your lathe.
Like all South Bend lathes, it comes with a 2-year warranty which covers parts and assures the unit is free from factory defects.
The South Bend Customer Service and Technical Support Teams are U.S. based.
Parts for the lathe maybe available online and shipped from the South Bend parts warehouse in Springfield, MO.
SPECIFICATIONS:
Spindle motor: 5 HP, 220V, 3-Phase, 14A
Spindle taper: NT40
Spindle speeds: Variable, 50–5000 RPM
Longitudinal travel: 32"
Cross travel: 15.7"
Vertical (knee) travel: 16-1/2"
Quill travel: 5"
Head swivel: 90°
Head tilt: 45°
Ram travel (In/Out): 20"
Ram swivel: 320°
Table size: 12-1/2" x 58"
Table T-slots: (3) 5/8"
Footprint: 42"L x 38"W
Dimensions: 124" W x 105-1/2" D x 93-1/2" H
Approximate shipping weight: 4015 lbs.
FEATURES:
CNC programmable 3-axis milling
Fagor CNC controller with convenient rotating housing and hand control
Power drawbar for fast tooling changes
Ball screw, servo-driven table movement
Oversize 12-1/2" x 58" precision ground cast iron table
Built-in coolant system
Highest quality South Bend construction throughout!
US based customer service and technical support
Due to product size, this item must be delivered to a loading dock or unloaded with a forklift. Liftgate not available.
View More Details