Item# G0791 Model# G0791
Grizzly G0791 - 12" X 36" Combination Gunsmithing Lathe/Mill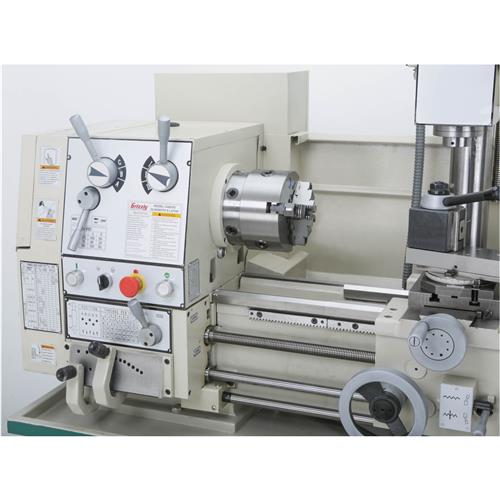 G0791 12" X 36" Combination Gunsmithing Lathe/Mill
The ultimate "small footprint" machining station for gunsmiths and machinists alike!
Don't let the compact size of the G0791 12" X 36" Combination Gunsmithing Lathe/Mill fool you, this combo lathe/mill really delivers on big machine features.
It comes fully equipped with work-holding and tool-holding equipment and accessories to get you started turning, drilling, milling, chambering, boring, and facing.
The spider mount system is especially designed for supporting long workpieces that extend through the outboard end of the spindle.
The tailstock lock system features a drive hub to ensure consistent draw-down alignment every time.
The 3/4 HP mill motor powers the R-8 spindle through four speeds ranging between 250–2300 RPM.
Like all Grizzly gunsmithing lathes, the G0791 comes with a 1-year warranty covering parts and assuring the unit is free from factory defects.
The G0791 manual was written by our U.S. based Documentation Department and is packed with useful information.
The Grizzly Technical Support team is U.S. based. Parts and accessories for the lathe may be available online and shipped from the Grizzly parts warehouse in Springfield, MO.
SPECIFICATIONS:
Lathe motor: 2 HP, 220V, single-phase, 8.5A
Mill motor: 3/4 HP, 220V, single-phase, 4.5A
Swing over bed: 12"
Swing over saddle: 11-5/16"
Distance between centers: 36"
Bed width: 7-1/4"
Lathe spindle bore: 1.57"
Lathe spindle taper: MT#5
Mill spindle taper: R-8
Tailstock taper: MT#3
Tailstock barrel travel: 4"
Cross slide travel: 6-1/4"
Compound travel: 3-1/4"
Maximum distance spindle to work table: 12"
Mill spindle travel: 2-1/4"
Mill table T-slots: 3/8", 2-7/16" OC
Maximum lathe tool bit size: 5/8"
Lathe spindle length: 17"
Lathe spindle length with 4-jaw chuck: 21-1/4"
Number of speeds: 9 (lathe), 4 (mill/drill)
Lathe speeds: 9, 70–1400 RPM
Mill speeds: 4, 250–2300 RPM
Range of threads (inches): 40 @ 4–112 TPI
Range of threads (metric): 29 @ 0.2–4.5mm
Approximate shipping weight: 1566 lb.
FEATURES:
1/2" Square drive in tailstock
Easy to use lever controls
Ball bearing steady/follow rests
Outboard spindle "spider" with 4 brass-tipped screws
Cast-iron stand with extended base
LED work light
Cuts LH threads
STANDARD EQUIPMENT:
6" 3-Jaw chuck with reversible jaws
4-Jaw chuck with reversible jaws
10" Faceplate
Steady rest/follow rest with roller tips
Quick-change tool post with included holder
Two MT#3 dead centers (1 carbide-tipped)
One MT#3 live center
Set of seven change gears
Drill chuck arbor R-8 x B16
5/8" Drill chuck
Spindle sleeve R-8 x MT#3, MT#3 x MT#2
Headstock oil not included.
View More Details