Item# G0791 Model# G0791
Grizzly G0791 - 12" X 36" Combination Gunsmithing Lathe/Mill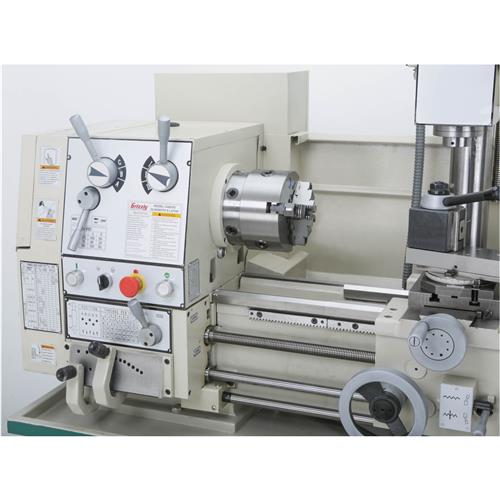 We've taken our extremely popular G4003G Gunsmith's Lathe and added a precision gearhead mill with 3/4 HP motor to create the ultimate "small footprint" machining station for gunsmiths and machinists alike! But don't let its compact size fool you, this combo lathe/mill really delivers on big machine features, such as a D1-5 lathe spindle and an R-8 mill spindle -- and it comes fully equipped with a huge variety of work-holding and tool-holding equipment and accessories to get you started turning, drilling, milling, chambering, boring, and facing with the best of 'em!
Features:
1/2" Square drive in tailstock for use with torque wrench to precisely lock tailstock
Easy to use lever controls
ON/OFF reverse switch on carriage
Ball bearing steady/follow rests
Outboard spindle "spider" for gunsmithing or long shaft support with 4 brass-tipped screws
Cast iron stand with extended base
Standard Equipment:
6" 3-Jaw chuck with 2-pc. reversible jaws
4-Jaw chuck with reversible jaws
10" Faceplate
Steady rest/follow rest with roller tips
Full length splash guard
Heavy-duty cast iron stand
Halogen work light
Quick-change tool post with included holder
Two MT#3 dead centers (1 carbide-tipped)
One MT#3 live center
Set of seven change gears
Drill chuck arbor R-8 x B16
5/8" Drill chuck
Spindle sleeve R-8 x MT#3, MT#3 x MT#2
Toolbox with service tools
Specifications:
Swing over bed: 12"
Swing over saddle: 11-5/16"
Distance between centers: 36"
Bed width: 7-1/4"
Lathe spindle bore: 1.57" (39.87mm)
Lathe spindle taper: MT#5
Mill spindle taper: R-8
Tailstock taper: MT#3
Tailstock barrel travel: 4"
Cross slide travel: 6-1/4"
Compound travel: 3-1/4"
Maximum distance spindle to work table: 12"
Mill spindle travel: 2-1/4"
Mill table T-slots: 3/8", 2-7/16" OC
Maximum lathe tool bit size: 5/8"
Lathe spindle length: 17"
Lathe spindle length with 4-jaw chuck: 21-1/4"
Number of speeds: 9 (lathe), 4 (mill/drill)
Lathe speed range: 70, 200, 220, 270, 360, 600, 800, 1000, and 1400 RPM
Mill speed range: 250, 530, 1100, 2300 RPM
Range of threads (inches): 4 - 112 TPI in 40 steps (Gear changes required)
Range of threads (metric): 29 @ 0.2 - 4.5mm
Cuts LH threads
Lathe motor: 2 HP, 220V, single-phase, 8.5A
Mill motor: 3/4 HP, 220V, single-phase, 4.5A
Approximate shipping weight: 1566 lb.
View More Details
More on the way and expected to arrive on 7/21/2021