Item# G0740 Model# G0740
Grizzly G0740 - 14" x 40" 3-Phase High Precision Toolroom Metal Lathe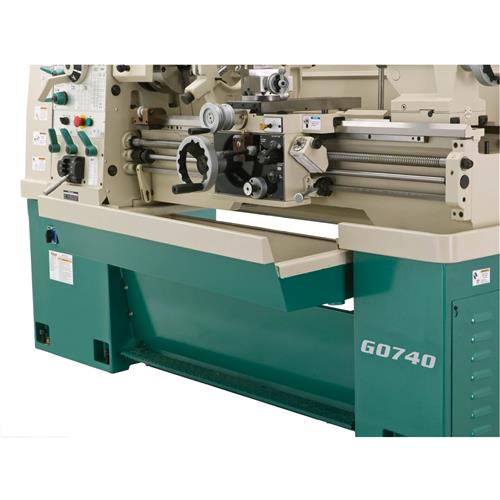 This full-featured 14" x 40" High-Precision Toolroom Lathe is equipped with just about everything needed to get a machine shop up and running—just add your own tooling! Hardened and precision-ground oil-bath lubricated gears and high quality spindle bearings are built to withstand heavy turning, yet hold tight tolerances for precision work. Cuts a wide range inch/metric threads and modular/diametral pitches. Features a hardened and precision-ground Meehanite-casting bedway, completely enclosed universal gearbox, complete coolant system, carriage feed stop, micrometer stop, 4-way toolpost, pull-out chip tray, safety foot brake, and one-shot way lubrication. Standard equipment includes 8" 3-jaw universal chuck, 10" 4-jaw independent chuck, 10" faceplate, ball bearing steady and follow rests, and dead centers.
Features:
Hardened and precision-ground bed withMeehanite castings
Halogen worklight
4-way tool post
Complete coolant system
Micrometer carriage stop
Threading dial indicator
Full-length splash guard
Front removable sliding chip tray
Headstock gears run in an oil bath
Jog button and emergency stop
Safety chip guard
Completely enclosed universal gearbox for cutting inch, metric, modular anddiametral pitches
Specifications:
Swing over bed: 14.17"
Swing over gap: 20.94"
Swing over cross slide: 8.66"
Distance between centers: 40"
Spindle nose: D1-5 camlock
Spindle nose taper: MT #5
Spindle bore: 1.57" (40mm)
Tailstock barrel taper: MT #3
Tailstock barrel diameter: 1.968"
Cross slide travel: 7"
Compound travel: 4"
Motor: 5 HP at 3450 RPM, 2.5 HP at 1725 RPM, 220V, 3-phase
Spindle speeds: 16, 50–2570 RPM
Range of threads (inches): 45 @ 2–72 TPI
Range of threads (metric): 39 @ 0.2–14mm
Cuts LH threads
Diametral pitch range: 21 @ 8–44 DP
Modular pitch range: 18 @ 0.3–3.5 MP
Width of bed: 9"
Approximate shipping weight: 2684 lbs.
Standard Equipment:
MT #5 to MT #3 spindle sleeve
10" 4-Jaw independent chuck D1-5
10" Faceplate D1-5
8" 3-Jaw scroll chuck D1-5
Follow rest
Service tools
Six leveling pads
Steady rest with roller bearing tips
Toolbox
Two MT #3 dead centers (1 carbon steel and 1 carbide-tipped)
View More Details