Item# G7947 Model# G7947
Grizzly G7947 - 17" Floor Drill Press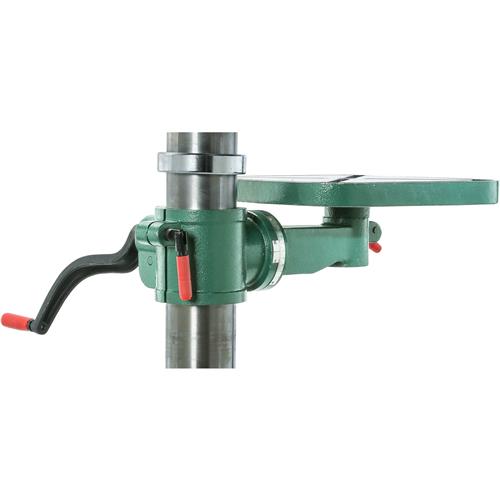 G7947 17" Floor Drill Press
A drill press with plenty of power and spindle travel.
The G7947 17" Floor Drill Press boasts 1-1/2 HP motor that smoothly powers the twelve spindle speeds ranging from 210 - 3300 RPM.
It can easily drill holes through fiberglass, plastic and composites and has a maximum capacity to drill through an inch of steel without bogging down.
The G7947 comes prewired 120V or can be converted to 240V. If you prefer 240V, refer to the Voltage Conversion instructions in the manual
The JT3 keyed drill chuck is fitted to the MT #3 spindle taper and offers up to 4-3/4" of travel. The chuck accepts drill bits from 3/64"–5/8". You can set the adjustable depth stop for predetermined and repeatable drilling.
To make sure that you get the best use of the table, the drill press features rack-and-pinion elevation controls—adjustable 21-1/2" vertically, 90° tilt (left and right) and is capable of 360° rotation around the column.
Finally, the precision-ground work surface on the base contains two more 1/2" T-slots, ensuring that every surface can be put to use.
Like all Grizzly drill presses, the G7947 comes with a 1-year warranty which covers parts and assures the unit is free from factory defects. (Consumables are not covered by the warranty.)
The G7947 manual was written by our U.S. based Technical Documentation Department and is packed with useful information. The complete and easy-to-read manual makes it easier to assemble and maintain your drill press.
The Grizzly Customer Service and Technical Support Teams are U.S. based. Parts and accessories for the drill press are available online and shipped from the Grizzly parts warehouse in Springfield, MO.
Made in an ISO 9001 Factory
CSA certified
SPECIFICATIONS:
Motor: 1-1/2 HP, single-phase, 120V/240V (prewired 120V), 15.8A/7.9A
Swing: 17"
Drill chuck: 3/64"-5/8"
Drilling capacity: 1" steel
Spindle taper: MT #3
Spindle travel: 4-3/4"
Number of speeds: 12 (210, 310, 400, 440, 630, 670, 1260, 1430, 1650, 2050, 2350, 3300 RPM)
Quill flange/collar dia: 3.623"
Drill chuck: 3/64"-5/8"
Table T-slot size: 5/8" wide
Table size: 13-5/8" x 13-5/8"
Table swing: 360 degrees
Table tilts: 90 degrees in both directions
Footprint: 27-1/2" x 19-1/4"
Overall size: 21" W x 30" D x 70" H
Approx. shipping weight: 260 lbs.
FEATURES
Precision-ground cast iron table
Table has lock levers and coolant trough
Threaded depth stop
Crank handle operated rack and pinion vertical table movement
Two T-slots accommodating 5/8" clamping kit
Huge 4-3/4" Spindle Travel
Cushioned grip quill handles
Includes built-in light (bulb not included)
View More Details
Backordered - More on the way