Item# G9740Z Model# G9740Z
Grizzly G9740Z - 20" 7-1/2 HP 3-Phase Planer w/ Spiral Cutterhead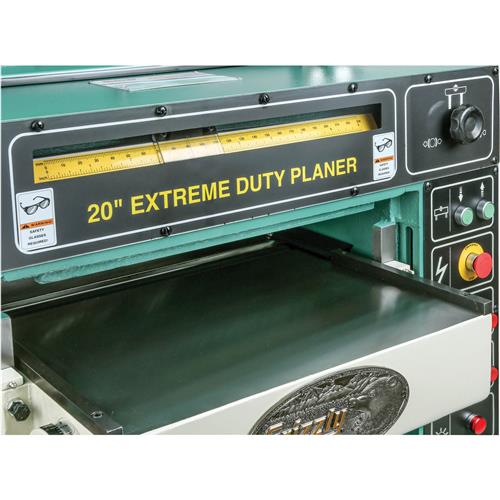 G9740Z 20" 7-1/2 HP 3-Phase Planer w/ Spiral Cutterhead
This 20" planer is built for Extreme Duty!
Weighing a massive 1678 pounds, with power up/down control for the table and variable-speed feed, there's nothing you can't throw at this machine.
The G9740Z 20" 7-1/2 HP Planer features power-driven, adjustable bed rollers, segmented chip breaker, and a 6-row spiral cutterhead with 144 indexable carbide inserts for the best possible finish.
Each insert can be rotated up to three times to expose a new sharp edge for superior finish.
Reducing the cut to the size of a single insert makes for a cleaner cut and reduces noise compared to the traditional straight knife cut.
Like all Grizzly planers, the G9740Z comes with a 1-year warranty which covers parts and assures the unit is free from factory defects. (Consumables are not covered by the warranty.)
The G9740Z manual was written by our U.S. based Technical Documentation Department and is packed with useful information.
The Grizzly Customer Service and Technical Support Teams are U.S. based. Parts for the planer may be available online and shipped from the Grizzly parts warehouse in Springfield, MO.
Made in an ISO 9001 factory
SPECIFICATIONS:
Main motor: 7-1/2 HP, 220V/440V*, 3-phase, 20A/10A
Feed motor: 1 HP
Table elevation motor: 1/2 HP
Maximum stock width: 20"
Maximum stock thickness: 9"
Minimum stock thickness: 1/4"
Minimum stock length: 10"
Maximum cutting depth: 3/16"
Cutterhead diameter: 4-5/8"
Cutterhead type: 6-row spiral, 144 inserts
Insert size & type: 14mm x 14mm x 2mm, 30° indexable carbide
Cutterhead speed: 5000 RPM
Feed rate: Variable speed, 20–40 FPM
Table size: 20-1/8" x 35-3/8"
Dust port size: 5"
Footprint: 28" x 38"
Overall dimensions: 38-1/2" W x 353/8" D x 42-1/2" H
Approx. shipping weight: 1765 lbs.
FEATURES:
Precision-ground cast-iron table
Powered table elevation
Powered serrated-steel infeed and polished steel outfeed rollers
Powered bed rollers
Micro adjustment of table height
Segmented chip breaker
Convenient control panel with magnetic switch with thermal overload protection
Twin V-belt drive (main), chain drive (feed & elevation)
Table height adjustment buttons & micro-adjust knob
*This machine is prewired for 220V. We can rewire to 440V in a few days' time for a fee of $305. Please contact Grizzly Technical Support at (570)546-9663 before placing your order.
View More Details