Item# G0789 Model# G0789
Grizzly G0789 - 22" x 60" Toolroom Lathe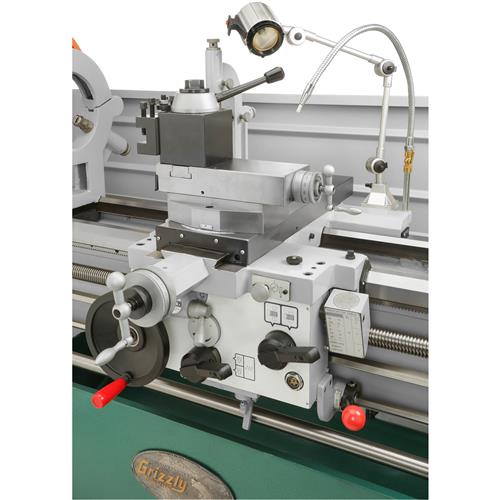 G0789 22" x 60" Toolroom Lathe
Backed by its huge size and large capacities, you'll be able to chuck-up most heavy workpieces.
The G0789 22" x 60" Toolroom Lathe is big enough to get the big job done! It features a 10 HP motor, 13-3/4" wide bed, universal quick-change gearbox, coolant pump and a heavy-duty tailstock.
This Toolroom Lathe has a 12-speed gearhead for spindle speeds from 25–1600 RPM.
The auto-stop apron allows you to pre-set up to four shoulders along the length of your project.
The G0789 also features adjustable apron clutch, safety chuck guard with micro-switch, massive tailstock, safety foot brake, and one-shot way lubrication.
Like all Grizzly gunsmithing lathes, the G0789 comes with a 1-year warranty covering parts and assuring the unit is free from factory defects. (Consumables are not covered by the warranty.)
The G0789 manual was written by our U.S. based Documentation Department and is packed with useful information. The complete and easy-to-read manual makes it easier to assemble and maintain your lathe.
The Grizzly Technical Support team is U.S. based. Parts and accessories for the lathe are available online and shipped from the Grizzly parts warehouse in Springfield, MO.
Due to product size, this item must be delivered to a loading dock or unloaded with a forklift. Liftgate not available.
Made in an ISO 9001 factory
SPECIFICATIONS
Motor: 10 HP, 220V, 3-phase, 26.7A
Swing over bed: 22-1/2"
Swing over gap: 30-7/8"
Swing over saddle: 14"
Distance between centers: 59-1/16"
Spindle bore: 3-1/8" (79.38mm)
Spindle nose: D1-8 camlock
Spindle nose taper: MT#7
Spindle speed: 12, 25 - 1600 RPM
Tailstock barrel taper: MT#5
Tailstock barrel travel: 7"
Cross slide travel: 12-3/4"
Compound travel: 5"
Range of threads (inches): 60 @ 2 - 112 TPI
Range of threads (metric): 47 @ 0.2 - 14mm
Diametral pitch range: 50 @ 4 - 112 DP
Modular pitch range: 39 @ 0.1 - 7.0 MP
Width of bed: 13-3/4"
Overall dimensions: 46" L x 112" W x 58" H
Approximate shipping weight: 5930 lbs.
FEATURES
12" 3-Jaw scroll chuck
14" 4-Jaw independent chuck
18" Faceplate
Cuts LH threads
One-shot lubrication on apron
4-Position auto apron stop
Full-length splash guard
Quick-change tool post with 2 tool holders
Jog and emergency stop buttons
Foot brake
MT#5 - MT#7 spindle nose sleeve
Centers, service tools, toolbox and leveling pads
Steady rest
Follow rest
Coolant system
Halogen work light
View More Details