Item# G0608X Model# G0608X
Grizzly G0608X - 7-1/2 HP 3-Phase Extreme Series Tilting Arbor Shaper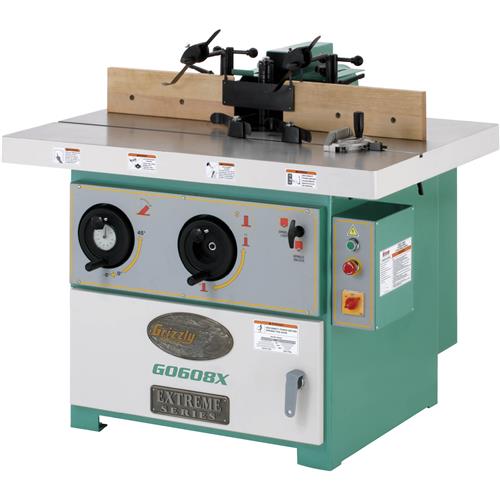 G0608X 7-1/2 HP 3-Phase Tilting Arbor Shaper
An industrial-grade shaper with the versatility of a tilting spindle.
The G0608X Tilting Spindle Shaper is heavy, powerful and offers smooth, continuous operation for even the most demanding production work.
The G0608X is equipped with a 7-1/2 HP motor and powers the spindle to 3900, 5000, 7200, and 9400 RPM speeds.
The spindle tilts from -5° to +45°, with 6-5/8" of travel, 6" of stacking capacity and a 10" maximum cutter diameter.
The built-in dial-type scale shows the precise angle of spindle tilt for accurate, repeatable passes.
The independently adjustable fence was designed with built-in ratchets and knob equipped adjusters for complete user control.
The massive table is 3" of thick, precision-ground cast-iron for stability.
Other features include a front-mounted spindle lock and two 5" dust ports for the ultimate in dust collection (one on the fence support and one on the cabinet).
Like all Grizzly Shapers, the G0608X comes with a 1-year warranty which covers parts and assures the unit is free from factory defects. (Consumables are not covered by the warranty.)
The G0608X manual was written by our U.S. based Technical Documentation Department and is packed with useful information. The complete and easy to read manual makes it easier to assemble and maintain your shaper.
The Grizzly Customer Service and Technical Support Teams are U.S. based. Parts for the shaper may be available online and shipped from the Grizzly parts warehouse in Springfield, MO.
SPECIFICATIONS:
Motor: 7-1/2 HP, 220V/440V* (prewired 220V), 3-phase, 20A/10A
Spindle travel: 6-5/8"
Spindle tilt: -5 to +45°
Spindle size: 1-1/4"
Spindle capacity: 6"
Spindle length: 7"
Spindle speeds: 3900, 5000, 7200, 9400 RPM
Maximum cutter diameter: 10"
Table counter bore: 13-3/4"
Table size: 47-1/4" x 35-1/2"
Floor-to-table height: 34-1/4"
Switch: magnetic with thermal overload protection
Two 5" dust ports
Approximate shipping weight: 1096 lbs.
FEATURES:
Aluminum miter gauge, adjustable 60° left to 60° right
Precision-ground cast-iron table
Independently adjustable fence with built-in ratchets and knob equipped adjusters
Tilting spindle from -5° to +45°
Spindle includes spacers and nuts
Spindle height scale in inches and millimeters
Four spring steel hold-down assemblies
Front-mounted spindle lock
Precise dial scale indicated spindle tilt
*This machine is prewired for 220V. We can rewire to 440V in a few days' time for a fee of $305. Please contact Grizzly Technical Support at (570) 546-9663 before placing your order.
View More Details