Item# G0608X Model# G0608X
Grizzly G0608X - 7-1/2 HP 3-Phase Extreme Series Tilting Arbor Shaper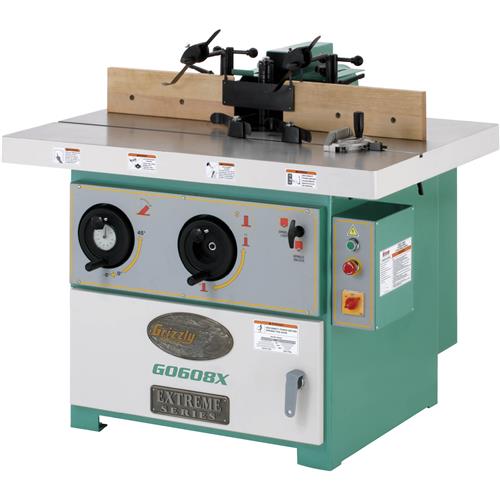 Buy now! Sale ends 12/31/20 (PST)
This Tilting Spindle Shaper has been designed and built to our Extreme Series® standards. It's heavy, powerful, and offers smooth, continuous operation for even the most demanding production work. It has a massive table that is 3" thick, dial-type scale that shows the precise angle of spindle tilt, front-mounted spindle lock, two dust ports (one on the fence support and one on the cabinet), 6" of stacking capacity on the spindle, and a 10" maximum cutter diameter. If you need an industrial-grade shaper with the versatility of a tilting spindle, this is the machine for you!
Features:
Micro-adjustable fence
Precise dial-type scale for angle of spindle tilt
Front mounted spindle lock
Four spindle speeds
Includes heavy-duty miter gauge, spindle spacers & nuts, hold-down assemblies & table inserts

Specifications:
Motor: 7-1/2 HP, 220V/440V*, 3-phase, 3450 RPM, 20A/10A
Spindle travel: 6-5/8"
Spindle tilt: -5 to +45°
Spindle size: 1-1/4"
Spindle capacity: 6"
Spindle length: 7"
Spindle speeds: 3900, 5000, 7200 & 9400 RPM
Maximum cutter diameter: 10"
Table counter bore: 13-3/4"
Precision ground cast iron table size: 47-1/4" x 35-1/2"
Floor-to-table height: 34-1/4"
Fence: wood, independently adjustable
Switch: magnetic with thermal overload protection
Two 5" Dust ports
Approximate shipping weight: 1096 lbs.

*440V operation requires purchasing additional components and installation by our technicians. Please call customer service at (570) 546-9663 for more information
View More Details