Item# G9903 Model# G9903
Grizzly G9903 - 9" x 49" Vertical Mill w/ Power Feed, 3-Phase VS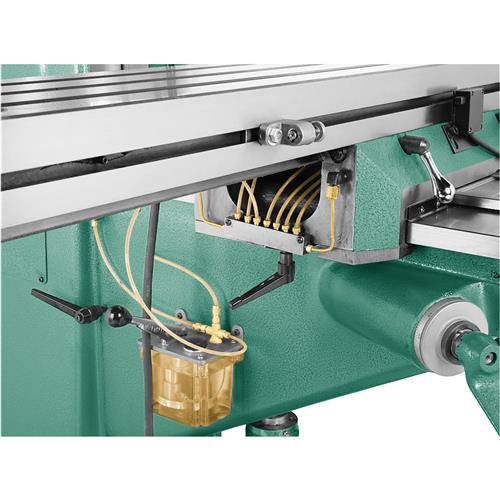 Need a little more table space? Try this 9" x 49" turret type knee mill. It has all the same great features as its little brother but it has the added table length necessary for those longer parts. This mill is an exceptional value. And of course with 2 HP, large slide surfaces and heavy castings, this milling machine will perform with amazing rigidity through some of the toughest jobs.
Features:
One-shot Pump Lubrication
Auto Down Feed
Quill Feeds/Spindle Rev.: 0.0019", 0.0035", 0.0058"
Auto Stop w / Micro Adjustable Stop
R-8 Spindle
Longitudinal Power Feed
Hardened & Ground Table Surface
Chrome Plated, Precision Ground Quill
Adjustable Micrometer Quill Depth Stop

Variable-Speed Head Specifications:
Motor: 2 HP, 220V/440V*, 3-phase, TEFC Induction, prewired to 220V
Spindle travel: 5"
Table size: 9" x 49"
Table travel (longitudinal): 27"
Table travel (cross): 12-1/2"
Max. distance spindle to table: 18"
Max. distance spindle to column: 20"
Knee travel: 16"
Head tilt: 45° both ways
Head swivel: 90° both ways
T-slots: 3 on 2-1/2" centers, 5/8" wide
Speeds: Variable
Range of speeds: 70–4200 RPM
Approximate shipping weight: 2468 lbs.
View More Details